The People Behind Sexy Pizza Rat Know You Won't Buy Their Costume
Viral Halloween costumes might not sell, but it's all about marketing anyway.
By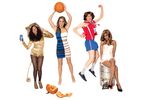 As soon as Chad Horstman saw the YouTube video of a rat dragging a slice of pizza in the New York City subway, he knew it should be a Halloween costume. "It was just so obvious," says Horstman, 37, founder of the online lingerie and costume store Yandy.com. "We try to make things that people are going to instantly recognize," he says. "With viral videos, it's pretty easy."
Yandy expects $15 million in costume sales this year, about 30 percent of which will come from "trend" costumes—outfits relevant only in 2015. Many are made by third-party manufacturers in China, but Yandy also produces its own brand in the U.S., so it can jump on new ideas quickly. It was late September when the pizza rat hit, so Horstman had his Los Angeles factory attach pizza pockets to a preexisting sexy mouse costume; two weeks later, the $90 Sexy Pizza Rat went on sale on the site.

A third of U.S. adults dress up for Halloween, and they account for the majority of the roughly $2.5 billion spent on costumes each year, according to the National Retail Federation. Grown-ups not only spend more on themselves than on their kids, but they're also more particular. "Children just want to be a character from whatever TV show or movie they like that year, but adults are inspired by what they see on the news," says Howard Beige, executive vice president of Rubie's Costume, in New York, which sells tens of millions of get-ups each season, mostly online or through big-box stores such as Wal-Mart and Target. "Picking something current is becoming a bigger thing," Horstman says, "and the ideas mostly come from the Internet."
There are two types of topical costume: those pegged to something in the future, like a presidential election, and those tied to a story that broke early enough in the year that they can be specially manufactured. After the Internet lost its mind over a photo of a striped black-and-blue (or maybe white-and-gold?) minidress in February, Horstman asked his designers to create a Halloween version. The result, which went on sale at the beginning of September, is Yandy's best-selling topical item this season.
Then there are the events that retailers have to react to on the fly. At the Garment District, a Boston shop that sells to about 75,000 people every Halloween, Chris Cassel, the president, stocked plain overalls for those who might want to dress up as the husband of Rowan County Clerk Kim Davis. "It's going to be a big couples costume, but not as a prepackaged product," he says, because the required items are regular clothes. Even for this kind of costume, there's a deadline. "After mid-October, it's hard for retailers to respond in any meaningful way to new ideas," says Beige, of Rubie's.
The topical trend is more visible because of social media, Beige says, though it's been around for decades. In 1982, when Johnson & Johnson recalled millions of tainted Tylenol products, Rubie's customers wanted to dress up as bottles of poisonous pills. And in 1994, the Los Angeles Times reported that O.J. Simpson masks were "one of the hottest-selling Halloween items in the country."
Today, the more controversial a costume is, the more likely it is to go viral. When that happens, the real benefit for a manufacturer is marketing, not sales revenue. Last year a Sexy Ebola nurse costume offered by online retailer Brands on Sale inspired headlines at ABC News, NPR, and BuzzFeed, even though I could find no evidence of anyone purchasing it. The same is true for Spirit Halloween's Caitlyn Jenner costume; employees at the company's Midtown Manhattan store said they'd yet to sell one despite its prominent display.
Yandy's Sexy Pizza Rat garnered millions of social media impressions, but only about 100 have been sold. "Let's do it," tweeted Stephanie, 24, in Louisville to a friend in early October. Asked if she was going to buy the costume, she admitted it was just a joke, saying, "I probably won't be dressing up."
(Corrects the amount of Yandy's expected costume sales in the second paragraph.)
Before it's here, it's on the Bloomberg Terminal.
LEARN MORE