Meet Your Robot Underling
We tested four startup services that play secretary using artificial intelligence—with varying degrees of success.
By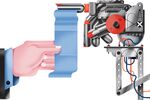 Amy
Free, though a paid pro version is coming soon; x.ai
Amy activates easily: You register online, give it calendar access, select how long meetings and calls should go, and then copy it on scheduling e-mails, a procedure I follow with all the bots. I deploy Amy while trying to plan a lunch, saying my personal assistant will handle the details. "Fine," my guest replies. "I'm copying in the lovely Hannah, who will take it from here!" Hannah, a human assistant, e-mails Amy with three times. Amy picks the one when I'm free and replies, "Once I confirm the location with Jason, I'll send out an invite." Easy! Amy's in beta, and her responses sometimes lag—the result, a spokesman tells me, of X.ai's staff doing a "rather massive data annotation" as they prepare to go to market. Once, when I e-mailed Amy at 9:36 p.m., she didn't write back until 8:17 the next morning. But hey, that's just like a real assistant.
Genee
Free; genee.me
Genee schedules meetings via e-mail, as well as Twitter, text message, and an app. To activate it on Twitter, I send a direct message to @genee_ai, then click a link. "Genee, how does the Twitter DM scheduling work?" I ask. It replies, "Done! Booked on Wednesday at 10 a.m." I ask it what it just booked. "Done! Booked on Wednesday at 1:30 p.m," it shoots back. Genee may still be in beta, but this is madness. I try another function, which lets me e-mail my calendar openings to someone. The person I'm hoping to meet next week soon replies: "Are we really gonna have lunch tomorrow?" Genee had forced him to create an account and then booked us for lunch without asking me. Not cool.
Overlap
Free, though the company "plans on charging"; overlap.cc
Overlap also schedules meetings when you copy it on e-mails, and it's also still being tested. It differs in a few ways from the others, though. First, it asks me to name it. I call it Stu, after a boss I didn't like. (Who's the boss now, Stu?) But unlike Amy, it doesn't pretend to be human. It's called Overlap because it helps people find—you guessed it!—overlaps in their calendars. I e-mail a friend about getting lunch next week and copy Stu. Stu writes my friend, asking him to select a time. My friend can click a link to book it, or click "view Jason's calendar" to see all my openings and pick one himself. Once a time is set, Stu e-mails me links—click here to confirm, here to reschedule, and here to adjust the location. It's serviceable, but I miss the fantasy of having a real assistant.
Clara
$49 per month for "individual" service, with tiers up to $499 a month for "executive" service; claralabs.com
Clara, which also schedules via e-mail, begins by sending a note: "I'm powered by humans, so I can understand anything you write!" That sounds creepy, but the company says it's just a stopgap: If Clara's algorithms can't understand a bit of text, it asks a human staffer for help. To test it, I copy Clara on a convoluted e-mail to a colleague that mentions lunches, dinners, beers, and various times and dates—but buried in there is a request to meet in mid-November at "that great bagel place," for which I give only the nearest intersection. In 12 minutes, Clara responds, naming the restaurant, Bergen Bagels (likely the work of a human, says Maran Nelson, Clara Labs' chief executive officer), listing its address, and offering two times I'm free. My colleague counters with a different time—Clara sees I'm free and books it. There's only one thing better than this service: The bagels we're about to eat.
Before it's here, it's on the Bloomberg Terminal.
LEARN MORE