Swedish Housing Market in `Exceptional Situation,' Minister Says
by
Population increase is exacerbating the housing squeeze

Construction group predicts home building to drop in 2016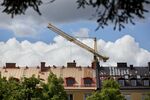 Sweden's property market -- already heating up at an alarming pace amid negative central bank rates and a lack of supply -- now faces another challenge.
The country's top minister for housing is warning that a record influx of asylum seekers will send the property market into uncharted territory as Sweden runs out of dwellings.
"We have an exceptional situation in the housing market and it's exceptional because we've had an enormous lack of housing for a long time," Mehmet Kaplan said in an interview in Stockholm on Thursday. "It doesn't get easier to solve when the population increases further."
Sweden on Thursday tripled its estimate for the number of asylum seekers from Syria, Iraq and Afghanistan set to cross its borders, and said the cost of looking after them next year will be twice that originally budgeted. As many as 360,000 people will arrive in the Scandinavian nation through 2016, the Swedish migration agency estimates.
The question is where to put them. Warnings of the risks building in Sweden's housing market have grown more frequent this month, with a number of bank executives sounding the alarm and the central bank revealing plans to cut its exposure to mortgage debt. The chief executive officer of Sweden's state mortgage lender, SBAB, said developments in the housing market are now "highly distressing" as prices continue to rise at a pace he warns is unsustainable.
Borrowing in Sweden has risen at twice the rate of economic growth since 2009. Over the same period, housing prices have jumped almost 50 percent. The government, which came into power last year, has so far done little to intervene, though it has targeted housing construction in an effort to raise supply and cool prices.

Those efforts suffered a setback this week, with the Swedish Construction Federation forecasting that fewer homes will be built next year because of new amortization rules and planned tax increases. The federation expects 44,500 homes to be built in 2015 and a further 42,500 next year.
Per Bolund, Sweden's financial markets minister, said the construction group has made a a "very doubtful conclusion."
"We have reached the conclusion to make newly built homes exempt from the amortization requirement," he said. "I don't think their concerns will be realized. I think we could actually see an increased construction of homes."
Bolund said the government is still looking for ways to rein in the mortgage market.
"The longer time we see a buildup of debt, the more risks are built into the system, and then measures can also have big effects," he said. "It's very good that we reached a common view on the amortization requirement, and I think we can also find ways forward."
Before it's here, it's on the Bloomberg Terminal.
LEARN MORE