Short Sellers Aren't Valeant's Biggest Problem
By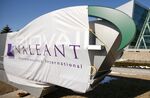 "I used to think if there was reincarnation, I wanted to come back as the president or the pope or a .400 baseball hitter. But now I want to come back as the bond market. You can intimidate everybody," political strategist James Carville is said to have quipped in the early 1990s.
Valeant is about to find out just what a bully bond investors can be.
The link between capital markets and short sellers is laid bare in the latest leg of the Valeant saga, where the Canadian pharmaceuticals company now stands accused by short sellers and stock analysts, including Citron Research, of Enron-like accounting and distributions fraud. Shares of the company, already in the midst of intense political pressure over the way it prices its drugs, dropped 40 percent after Citron published its note on Wednesday, and the stock ended the day down 19 percent. 
Yet Canada's only large-cap growth stock was in trouble even before Citron hit "send" on its much-discussed report, and not just for its controversial drug pricing. Instead, it had to do with the massive debt load taken on by the company to fund its many acquisitions. 
That weakness was underscored earlier this week when Valeant announced better-than-expected third-quarter earnings, plus a pivot away from its long-time strategy of buying drugmakers and raising the prices of their products.
"Valeant is changing its business model, including emphasizing research and development, which implies the prior business model was unsustainable," Morgan Stanley analysts led by David Risinger wrote on Tuesday, following Valeant's results. 

A growth stock without access to the capital it needs to fund its expansion will rapidly find itself classified as something else altogether, and uncertainty is a detested thing among credit investors.
"Even where fraud did not exist (Tyco back in 2002), the lack of clarity is usually a major mistake," CreditSights analysts Eric Axon and Chris Snow wrote on Thursday. "In an [over-the-counter] market such as high-yield bonds and in a market where the Office of the Comptroller of the Currency has a close eye on loan risk and reserving at the banks, the stakes are high."
Valeant's most actively traded bonds, due in 2025,  fell off a cliff on Wednesday, and JPMorgan credit analysts have subsequently cut their rating on the company's debt. "We have to admit we underestimated the degree to which Valeant developed into a lightning rod for controversy," they deadpanned.
The good news here is that Valeant does not have any significant debt coming due until 2018. The bad news is that it now needs to prove it can shift away from a roll-up strategy of multiple acquisitions to a growth-oriented business that can exist without the backing of cheap access to capital. And it must do all this while fighting off politicians, prosecutors, and a new crop of short sellers.
On that note, Carville is famous for another quip from the early 1990s. In the case of Valeant, we could aptly say: It's the debt, stupid!
The truth here is that companies reliant on continuous access to the capital markets to fund their growth make easy feasting for short sellers. Regardless of the truth of Citron's and others' hefty assertions, Valeant was and remains very vulnerable.