Puerto Rico Bonds Drop to August Low on Bankruptcy Proposal
by and
Island may miss Dec. 1 payments on its development-bank bonds

`The tone is all negative today,' says Solender at Lord Abbett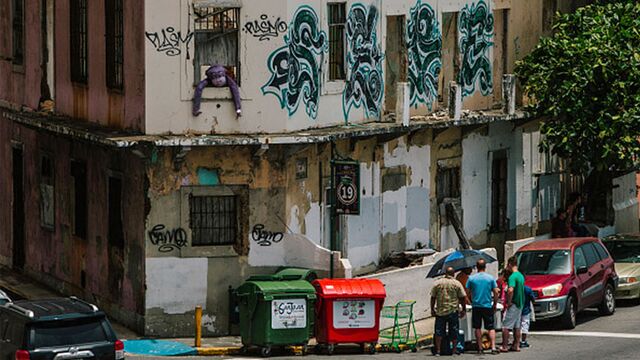 Puerto Rico's benchmark general-obligation bonds fell to the lowest price since August after the Obama administration proposed giving the commonwealth unprecedented authority to restructure its entire debt burden through bankruptcy protection.
General-obligation debt is viewed as possessing the highest likelihood of repayment since municipalities pledge to use all legally available resources to compensate bondholders. Adding to investor concern were comments from Puerto Rico Congressman Pedro Pierluisi during a Senate hearing on Thursday that some of the commonwealth's bonds may have been issued unconstitutionally and shouldn't be repaid if that's the case.
"The tone is all negative today," said Daniel Solender, who oversees $17 billion of state and local debt, including Puerto Rico bonds, as head of munis at Lord Abbett & Co. in Jersey City, New Jersey. "It's all out there now and presented pretty aggressively." 
Detroit Precedent
Commonwealth general obligations with an 8 percent coupon that mature in July 2035 traded Thursday with the largest volume in three months, data compiled by Bloomberg show. Prices touched 70.343 cents on the dollar, the lowest since Aug. 25. That equals a tax-free yield of almost 12 percent.
Shares fell among the bond insurers backing some Puerto Rico debt. Assured Guaranty Ltd. slid 4.2 percent to close at $26.45 at 4 p.m. in New York. It was the biggest decline since June 29, the first trading day after Puerto Rico Governor Alejandro Garcia Padilla called the island's obligations unpayable. MBIA Inc. dropped 3.9 percent and Ambac Financial Group Inc. plunged 4.2 percent.
Bankruptcy is currently unavailable to American territories, leaving cash-strapped Puerto Rico to negotiate separately with owners of more than a dozen types of bonds that have different security pledges. Under Chapter 9, all debt could be subject to losses, giving commonwealth officials greater leverage in negotiations in a proposal released late Wednesday by the Obama administration. Holders of unlimited-tax general obligations in Detroit agreed to a recovery of about 74 cents on the dollar while the city was under court protection.
Padilla supports the Chapter 9 proposal and said Thursday that the island's Government Development Bank may fail to make a Dec. 1 bond payment, a signal that further defaults are imminent. Negotiations fell apart between the GDB and some bondholders regarding a debt-exchange that would have provided it with cash to cover the obligation.
Bondholder Group
Holders of the securities have stressed that Puerto Rico should concentrate on making the government more efficient before attempting to force losses on investors through bankruptcy.
"The presumption that Chapter 9 is fair and objective is false," Stephen Spencer, a managing director at Houlihan Lokey Inc., the financial adviser to bondholders of the island's electric utility, wrote in a note. "The discriminatory outcomes stem from a lack of creditor protections in Chapter 9. The balance of debtor and creditor powers that Chapter 11 accomplishes so well are completely lopsided in favor of municipalities under Chapter 9."
Before it's here, it's on the Bloomberg Terminal.
LEARN MORE