Project: Evo, the First Prescription-Strength Video Game?
A game that does more than build hand-eye coordination.
By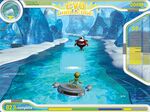 Innovators: Adam Gazzaley and Eddie Martucci
Ages: 46 and 33
Director of the Neuroscience Imaging Center at the University of California at San Francisco; chief executive officer of Akili Interactive Labs in Boston
Form and function
A mobile game designed as daily therapy for brain disorders such as ADHD. Its developers say they plan to seek FDA approval for what may be the first prescription-strength video game.
Origin
Martucci, a vice president at venture firm PureTech Health, co-founded Akili in 2011 to develop non-drug-based treatments for brain maladies. He tapped memory and perception researcher Gazzaley to help make the game.
1. Multitasking
Evo forces players to make split-second decisions to engage what scientists call the brain's "interference filter," which prioritizes tasks and screens out distractions. In an early level, you steer a flying saucer through a canyon by tapping red obstacles and ignoring others.
2. Development
The game detects a patient's ability and adjusts its speed as she advances. In later levels, the pace quickens and players must select multiple objects from a growing range of choices.
Funding
Akili says it's received more than $10 million from backers including PureTech and ADHD drugmaker Shire. It has yet to set a price for the game.
Other tests
Pfizer in 2014 began a 100-person trial to determine whether Evo can help detect Alzheimer's. Akili plans to start a study on autism in the next few months.
Next Steps
On Oct. 28, Martucci's team of scientists will present the results of an 80-patient ADHD study using the game at a medical conference in San Antonio. Akili says it expects to begin broader testing by yearend to support an FDA filing. That would give Evo an edge over nonprescription brain games, says Masud Husain, a neuroscience professor at the University of Oxford. But Husain says it's too early to know whether Akili's game will be effective in treating disorders other than ADHD.
Before it's here, it's on the Bloomberg Terminal.
LEARN MORE