Myanmar's 19% Currency Slide Makes Window Shoppers of Its People
Philip Heijmans and Lilian Karunungan
Kyat is Asia's biggest loser of 2015, making imports costlier

Central bank is clamping down on use of dollars for payments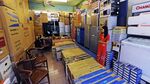 Shopkeeper Kyaw Swar Tun grimaces as he tallies the day's sales in his small electrical appliance store stacked from floor to ceiling with imported goods in Myanmar's biggest city of Yangon.
"There's been no shopping anywhere, only window shopping," the 45-year-old exclaimed, throwing his hands in the air as he sat behind a wooden desk. "Business is no good for anybody because dollar prices are up."
The 19 percent slide in Myanmar's kyat versus the dollar this year, Asia's worst performance, increased the cost of refrigerators, microwaves and air conditioners Kyaw Swar Tun imports, forcing him to raise prices. With the country preparing to hold a general election on Nov. 8, analysts see no end to the currency's retreat as an investment boom drives a surge in the Southeast Asian nation's imports of raw materials and machinery.
"This weakening trend hasn't ended," said Andrew Wood, the Singapore-based head of Asia country risk at BMI Research, part of Fitch Group. A current-account gap estimated at 7 percent of gross domestic product this year and next will weigh on the kyat, as will Myanmar's budget deficit and quickening inflation, he said.
Since taking power in 2011, President Thein Sein's quasi-civilian government opened industries such as energy exploration, banking and telecommunications to foreign participation in a bid to bring Myanmar out of more than 50 years of isolation and military rule. Foreign direct investment surged to $8 billion in the fiscal year ended March, more than five times the total for the 2012-2013 period, and the International Monetary Fund estimates that the consequent jump in imports boosted the trade deficit to $5.2 billion. The central bank is seeking to halt the currency's drop by preventing hotels, restaurants and airlines from charging in dollars.
"There has been dollarization leading to an increased need for dollars, weakening the kyat and causing exchange-rate instability," the authority said in a statement released Oct. 16. Businesses have until the end of November to surrender foreign-exchange licenses that allow them to deal in both the U.S. and local currencies.

The kyat has lost more than a third of its value since the Central Bank of Myanmar introduced a managed float in April 2012 and traded Friday at 1,277.5 per dollar in Yangon. Australia & New Zealand Banking Group Ltd. predicts it will weaken 2.9 percent to 1,315 by Dec. 31, while BMI Research forecasts a 5.4 percent drop to 1,350. Both see further declines in 2016 with the latter predicting little impact from next month's vote.
"I don't see a whole lot of change in economic policies following the election unless there's a social or massive political event that's extremely negative," BMI Research's Wood said. Aung San Suu Kyi's National League for Democracy is expected to take seats from the military-backed ruling party, though it's unlikely to have a "commanding majority" that would enable major changes, he said.
Annual growth has averaged more than 7 percent since the 2010 election, helped by foreign investment in infrastructure and low-cost manufacturing. The Asian Development Bank sees the economy expanding 8.3 percent this year and close to that in 2016. Per capita income was $1,198 last year, about a fifth of neighboring Thailand.
The businesses being hit hardest by the kyat's slide are the ones importing products from international manufacturers and selling locally, according to Melvyn Pun, chief executive of Myanmar property developer Yoma Strategic Holdings Ltd., which is listed in Singapore.
That's certainly the case for Myo Htun Kyaw, the 38-year-old manager of a family-owned computer sales shop in Yangon called Idea Link, who said that not only has he had to hike prices more than 20 percent on his largely imported inventory but he has also stopped selling laptops costing more than $700 as there's no demand.
"People always complain about the price because last year they were buying laptops for 300,000 kyats and now they are over 400,000 kyats because of the exchange rate," he said. "We are not busy selling much now because the prices are high, very high."
To support the exchange rate, the central bank in the second quarter began moving forward with a number of policies including cracking down on black market exchange services and initiating a slow depreciation of official rates to bring them closer to the market rate. It also halved the daily limit on dollar withdrawals at banks to $5,000 per customer and reportedly told government ministries and regional authorities that all of their business must be conducted in the local currency.
Despite these measures, the directives have had little impact on the exchange rate as experts question the financial regulator's ability to deal with macroeconomic changes. The authority's "regulatory and supervisory capacity is still relatively weak," the IMF said in a September report.
Win Thaw, deputy director general of the central bank's foreign-exchange management department, said further measures will be announced, though he declined to give details. He said the central bank is working "step by step" to help businesses adapt to the change. The lack of a plan coupled with uncertainty stemming from the election has left appliance retailer Kyaw Swar Tun concerned.
"I am a little bit afraid for my business," he said, placing his reading glasses onto the desk. "I don't know my country's future, nobody knows."
Before it's here, it's on the Bloomberg Terminal.
LEARN MORE