Korea Economy Rebounds From MERS Outbreak as Shoppers Return
by
Gross domestic product expands the most since early 2010

Upbeat data eases pressure on BOK for further monetary easing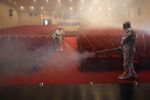 South Korea's economy rebounded in the third quarter as an outbreak of the Middle East Respiratory Syndrome receded and consumers ventured back to the shops, offsetting weakness in sales abroad.
Policy makers including Finance Minister Choi Kyung Hwan and Bank of Korea Governor Lee Ju Yeol have highlighted positive signs in the economy, while cautioning that risks remain from weakness and uncertainties in overseas markets. The better-than-expected economic rebound is likely to ease pressure on the BOK for further monetary easing.
"Consumption and construction investment rose more than I had expected, and an improvement in exports this quarter would make it possible to achieve the BOK's forecast" for growth, said Moon Jung Hiu, an economist for KB Investment & Securities in Seoul. "Today's data lessens the possibility of an additional rate cut by BOK."
Gross domestic product expanded 1.2 percent from the three months through June, when it grew by only 0.3 percent, the Bank of Korea said Friday. Economists surveyed by Bloomberg had projected a 1 percent increase. GDP expanded by 2.6 percent from a year earlier.
The government introduced temporary consumption tax cuts and an extra budget after MERS spread to Korea in May, frightening away foreign tourists and local shoppers. Authorities declared in July that the virus was no longer a concern.
Property Boom
Private-sector consumption rose 1.1 percent in the third quarter from a contraction in the previous period, while government spending increased 1.9 percent and facilities investment rose 2 percent, Friday's statement showed. Construction investment gained 4.5 percent as the property market boomed.
An active pre-sales housing market and increased spending on infrastructure due to an extra budget supported construction, according to Jeon Seung Cheol, a director general at the central bank.
The central bank held its key interest rate unchanged at a record low 1.5 percent on Oct. 15. It adjusted its 2015 growth forecast the same day to 2.7 percent from 2.8 percent, citing lower-than-expected second-quarter growth. The BOK's monetary policy committee next meets to decide the policy interest rate on Nov. 12.
The "upward surprise" in third-quarter GDP points to an increased possibility that the BOK will keep its key rate at 1.5 percent throughout the year, Morgan Stanley wrote in report after the release. Governor Lee said Friday that Korea's growth momentum is expected to continue in the fourth quarter.
Private analysts surveyed by Bloomberg from Oct. 8 to Oct. 13 were more pessimistic about Korea's economy, forecasting 2.4 percent GDP growth for this year.
Exports as measured by volume fell 0.2 percent from the previous quarter as sales of Korea's major products declined, according to the central bank's Jeon. Exports, which have fallen every month this year, will contribute less to growth than domestic demand, the BOK said on Oct. 15.
After the BOK decision this month, Citigroup Inc. pushed back its call for a rate cut until 2016, citing reasons including an improvement in domestic demand.
Before it's here, it's on the Bloomberg Terminal.
LEARN MORE