King of Poutine Says Safe Canada Banks Stifle Small Business
by
Canada among world's tightest lenders to small firms: OECD

Ryan Smolkin built self-funded chain selling Quebec dish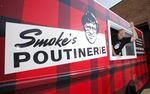 Canada's banking system is the safest in the world. That's cold comfort to some of the country's small business owners.
Ask Ryan Smolkin, who took poutine -- a Quebec comfort food made of fries, gravy and cheese curds -- and turned it into a franchise spanning the continent. When he wanted to buy a Toronto commercial property in 2007, his bank spurned him.
He bought it anyway, using his house for collateral and other savings for the C$800,000 ($617,000) site, which has since tripled in value. His operations now include 100 Smoke's "poutineries" in cities including Vancouver, Hollywood, Las Vegas and Tampa Bay.
"Everybody wants in on me now," says Smolkin, 42, referring to banks. "It's nice to be in that position, but I always say where were you five years ago when I needed you?"
He declined to name the bank.
Smolkin said the bank based their rejection on the property's income at the time, which was nothing since most of it was vacant. He said few small-business owners have the resources he used to beat the lending setback -- a paid off mortgage and cash from a previous venture -- meaning plenty of ideas in Canada die for want of financing.
Canada could use some corporate risk taking. The world's 11th-largest economy is on pace for the slowest annual growth since the 2009 recession, and is losing share of the U.S. import market to Mexico and China. Bank of Canada Governor Stephen Poloz says the country lost thousands of companies through the crisis and a recovery depends on the birth of new ones.
Losing Out

Prime Minister-Designate Justin Trudeau, elected Monday in a landslide victory, has vowed to cut the small business tax rate to 9 percent from 11 percent to help stoke a sector that employs 8 million people and accounts for 98 percent of its 1.2 million companies, according to the Organisation for Economic Cooperation and Development.
Despite its status as engine of growth, small and medium enterprises, with 500 or fewer employees, are losing out to larger counterparts when it comes to getting a loan, the research agency said in an April report. The sector received C$90.2 billion, or 15.3 percent of business loans in 2013, the most recent year of OECD data. That's down from 17.4 percent in 2007 and the lowest share since 2000. In one OECD comparison of 19 countries, Canada had the lowest ratio of loans to small and medium businesses, relative to total business loans.

It's part of a global trend. Tighter small business lending "remains problematic" since the 2008 financial crisis, amid stricter regulations on risk-taking, the OECD said. The World Economic Forum ranked Canada's banks the soundest this year for the eighth consecutive time.
The "industry is a strong, stable supporter of small and medium sized businesses and banking services extend beyond just accessing credit," Kate Payne, a representative for the Canadian Bankers Association, said in an e-mailed response. She cited a CBA report showing such credit grew more than 20 percent from 2008 to 2013.
Expansion. Not.
Michelle LeBlanc, owner of Chinched Bistro in St. John's, Newfoundland, said she delayed expansion plans after early talks about lending terms with Royal Bank of Canada. She's been in business for five years and in December won a C$10,000 grant in a national competition.
"It's a business that they are incredibly resistant to finance unless you have about 25 percent of what you require already in pocket," she said.
Royal Bank of Canada said it aims to make loans accessible. "We know that running your own business is a big undertaking, and we work with our clients to make the process simple and efficient for them to secure a loan," Sarah Adams, vice president, small business, said in an e-mail. "In reviewing a loan request, we want to ensure that, among other things, there is a solid business plan in place."
Risked All
Smolkin had a good track record when he sought the Toronto building, including student housing projects and a marketing company he sold to give him C$4 million in personal assets. His bank offered a loan of less than 15 percent of the purchase price, so he opted instead to take a credit line against his own house to raise the money.
He now sells poutine to fans at Ottawa Senators, Tampa Bay Lightning and Arizona Coyotes National Hockey League games, plans to open another 40 locations.
"I love Canada, but it's just not helping the small guys," he says.
Before it's here, it's on the Bloomberg Terminal.
LEARN MORE