Junk Bond ETFs Break Monthly Flow Record With a Week to Spare
Barclays's JNK has taken in $2.2 billion–by far the most ever in a month.
by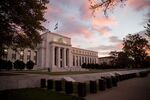 When the cat's away, the mice will play.

Money has flowed back into exchange-traded funds that invest in junk-rated corporate debt at the fastest rate ever, after the Federal Reserve's recent decision not to raise interest rates and despite persistent concerns over liquidity in the market.
After taking in another half a billion dollars yesterday alone, junk bond ETFs have now taken in more than $4 billion so far in October. This puts them over the top in terms of the biggest monthly cash haul of all time–and there's still a full week to go.
While the largest high-yield ETF in the world–the iShares iBoxx $ High Yield Corporate Bond ETF (HYG)–has taken in a hefty $1.5 billion, the bigger destination for these yield-thirsty investors is the SPDR Barclays High Yield Bond ETF (JNK). JNK has taken in $2.2 billion–by far the most ever in a month, as seen in its monthly flow chart below.

Investors are choosing JNK despite some recent issues the fund has had tracking its index; JNK is down 1.6 percent on the year, while its index is basically flat per the chart below. Even once the expense ratio of 0.40 percent is subtracted, about 100 basis points of a painful tracking difference remain. That's not good for an ETF whose sole purpose in life is ostensibly to track its index. In contrast, HYG's currently has a 0.47 percent tracking difference. 

Investors are most likely overlooking the tracking error because of JNK's juicy 6.1 percent yield, which is more than HYG's, at 5.5 percent. JNK's yield, and possibly the increased tracking error, are probably a result of it dipping a bit deeper into "junkier" territory of CCC-rated debt than its peers. Another reason investors might be overlooking the tracking issues is that they are not planning to be in the fund that long. Tracking issues are more important the longer an investor holds the ETF. At this point, JNK investors are accustomed to short-term visits into JNK.
Such fleeting visits to Hotel JNK are generally inversely correlated with concerns over the Fed raising interest rates. As rate hike fears rise, money scampers out. Then, when the Fed flakes out, the money flies back in very quickly.

With the Fed feline firmly on hold, the mice are now out in force.
Eric Balchunas is an exchange-traded-fund analyst at Bloomberg. This piece was edited by Bloomberg News.
Before it's here, it's on the Bloomberg Terminal.
LEARN MORE