It Took 42 Years to Finish This Nuclear Power Plant in the U.S.
by and
Watts Bar Unit 2 given 40-year operating license by regulator

First U.S. atomic reactor authorized in almost two decades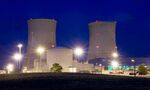 Forty-two years and counting. That's how long it's taken to get America's latest nuclear reactor up and running.
The stop-start saga behind Unit 2 at the Watts Bar complex near Knoxville, Tennessee, moved a step closer to its conclusion Thursday when the Nuclear Regulatory Commission granted the plant a 40-year operating license.
The length of time it took to get to this stage bears witness to the headwinds that have buffeted the atomic industry over the decades. Work on the reactor was suspended in 1985 when the owner decided it wasn't needed, especially in an era of low fossil-fuel prices. More recently, costly safety upgrades in the wake of the Fukushima disaster and competition from a flood of cheap natural gas have taken a toll.
The go-ahead from the NRC clears the last remaining hurdle before the Tennessee Valley Authority can bring the 1,150-megawatt Unit 2 into service, at an estimated cost of about $6 billion. It'll be the first new nuclear plant in the U.S. since TVA, the largest publicly owned U.S. power company, started running Unit 1 at Watts Bar in 1996. 
"This unit will provide low-cost, reliable energy for decades to come," Bill Johnson, chief executive officer of TVA, said at a news conference.
More work needs to be done before fuel can be loaded to the reactor, followed by months of testing, Johnson said, without giving a date for the unit to start up.
While some operators scrapped plans to build reactors, TVA took the opposite tack by reviving plans to complete Watts Bar 2. It'll come online just as U.S. policy makers crack down on pollution from electricity generation, forcing emissions-intensive coal plants to close.
Buck Trend
Nuclear proponents are hoping that the completion of Watts Bar 2 gives the industry a kickstart. Atomic power provides 63 percent of America's zero-carbon electricity supply. "Significant greenhouse gas reductions in the electric sector can't be achieved unless our nation keeps the nuclear facilities we already have and builds more of them," Marvin Fertel, who heads up the Nuclear Energy Institute, said by e-mail.
TVA, a division of the U.S. government that manages a power grid serving 9 million people, received approval to build both Watts Bar reactors in 1973. The original operating license was filed on June 30, 1976, but work on Unit 2 was suspended in 1985, Joey Ledford, a spokesman for the NRC in Atlanta, said in an Oct. 7 e-mail.
"TVA said at the time it suspended construction that it would not need the capacity the plant would produce," Ledford said. 
Baseload Generation
Back then, the industry was reassessing the need for so-called baseload power generation, or plants that run steadily day and night. Hence TVA made the "controversial decision" to put construction on hold, Jim Hopson, another spokesman for TVA, said in an Oct. 15 e-mail. 
More than two decades later, TVA notified regulators that it was resuming construction. Business and financial conditions had changed and there was once again a need for more baseload generation, according to Hopson. Since 2012, TVA has either officially retired, idled or announced pending retirements of 33 coal-fired units with combined summer capacity of 6,793 megawatts, or about 46 percent of its coal fleet, he said.
Watts Bar 2 will run with the same type of Westinghouse pressurized water reactor that TVA has been operating for 19 years in Unit 1, according to NRC filings. It's a 14-foot-wide and 44-foot-high reactor vessel with 264 nuclear fuel rods that'll maintain a temperature of about 586 degrees Fahrenheit (308 Celsius).
Unit 2 had to be updated to meet stricter safety regulations that emerged following a March 2011 tsunami that triggered equipment failure and nuclear meltdowns at the Fukushima Daiichi plant in northern Japan.
Before it's here, it's on the Bloomberg Terminal.
LEARN MORE