Hamleys Set for Chinese Ownership as Ludendo Negotiates Sale
by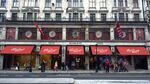 Hamleys is close to changing hands after Chinese footwear retailer C.Banner International Holdings Ltd. said it's in advanced talks to acquire the British toy seller.
C.Banner is negotiating with the U.K. arm of Ludendo, a French toy-shop operator that has owned Hamleys since 2012. There's no certainty that a deal will be reached, the Chinese company said in a statement Thursday.
The acquisition of 255-year-old Hamleys would help Nanjing, China-based C.Banner diversify away from its footwear business and be the first significant step in expanding outside its home market. Hamleys, which opened its London flagship store in 1881, now has dozens of stores across Europe, Asia, the Middle East and Africa.
If successful in its acquisition, C.Banner plans to expand the Hamleys brand into other department stores and is in talks to partner with U.K. chain House of Fraser, according to the statement.
The Wall Street Journal reported earlier Thursday that C.Banner agreed to pay about 100 million pounds ($154 million) for Hamleys.
Before it's here, it's on the Bloomberg Terminal.
LEARN MORE