First Madoff Trial Set in Switzerland to Start Later This Year
by
First case of Geneva feeder fund dropped after parties settled

Trial to take place nearly seven years after Madoff confession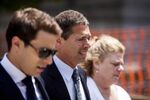 Switzerland will start the criminal trial in early December of the head of the largest of the Geneva feeder funds that channeled money to convicted fraudster Bernie Madoff, seven years after the American admitted cheating investors.
The trial of Manuel Echeverria, who ran Banco Santander SA's Optimal Investment unit, will start Dec. 7 in Geneva's Tribunal de police, said Henri Della Casa, a spokesman for the Geneva prosecutors' office. He was charged in 2009 with aggravated mismanagement over his handling of client funds. The lead plaintiff is Franck Berlamont, a client of Echeverria's.
Madoff is serving a 150-year prison sentence in the U.S. after he plead guilty to running a $17.5 billion Ponzi scheme that took money from new investors to pay old ones. The global reach of his fraud triggered lawsuits around the world and at least two in Geneva. In the smaller of the two Geneva cases, five former fund managers at Aurelia Finance SA were indicted on charges of "aggravated mismanagement" of client money in 2009 by local prosecutors.
A settlement in September gave the plaintiffs "strong" compensation in return for charges against the five managers being dropped. Though the specifics of the settlement were never disclosed, the plaintiffs had about 60 million Swiss francs ($62 million) invested with Madoff through Aurelia.
By contrast, Optimal had about 2.33 billion euros with Madoff at its peak. Laurent Moreillon, Berlamont's lawyer, said the volume of Optimal's assets under management makes it stand out, as well as the fact Echeverria had corresponded with Madoff directly.
"The difference is he knew Madoff and there were signals that something was wrong that he should not have ignored," Moreillon said in an interview at his offices in Lausanne, Switzerland. "We expected him to do due diligence that he didn't do."
Saverio Lembo, Echeverria's lawyer, said his client is looking forward to proving those claims are wrong and demonstrating his innocence in a courtroom after more than six years of probes by the Geneva public prosecutor.
"He awaits the outcome of the trial with serenity and is, today more than ever, determined to fight this case until the very end in order to obtain an acquittal," Lembo said in e-mailed comments.
Before it's here, it's on the Bloomberg Terminal.
LEARN MORE