ECB Keeps Rates Unchanged as Draghi Weighs Risks of QE Signaling
by
Malta hosts penultimate monetary-policy meeting of 2015

Economists say additional stimulus a case of when, not if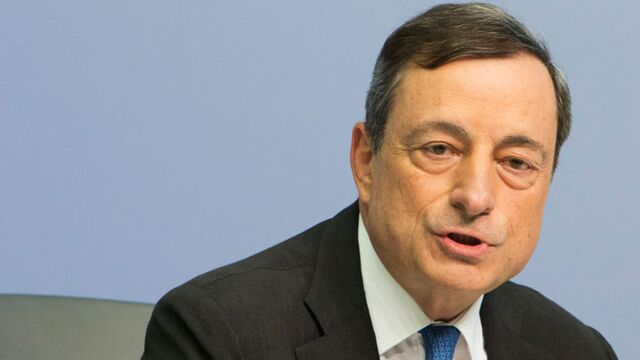 The European Central Bank kept interest rates unchanged, turning the focus to President Mario Draghi's assessment of the economy for any clues on whether more stimulus is in the pipeline.
The 25-member Governing Council left the main refinancing rate at a record-low 0.05 percent on Thursday, as predicted by all 53 economists in a Bloomberg survey. The deposit rate and the marginal lending rate stayed at minus 0.2 percent and 0.3 percent, respectively.
The ECB is grappling with a complex scenario of mixed domestic economic signals, an uncertain global outlook, and divergent opinions on what's needed to combat feeble inflation. In the run-up to the meeting in Malta, one of two each year held outside Frankfurt, Draghi and most of his colleagues said it's too early to decide whether to expand their 1.1 trillion-euro ($1.2 trillion) bond-buying program, leaving economists and investors guessing when, if at all, he'll commit to doing more.
"Draghi needs to convince the market that the ECB is capable of doing a lot more if the situation deteriorates -- cut rates, increase the pace of bond purchases, buy loans on an industrial scale -- when many on the council appear to believe its premature to do even a little more despite a worrisome inflation forecast," said Richard Barwell, an economist at BNP Paribas Investment Partners on London. "Emphasizing you are willing to use all available instruments is a start, but not engaging with the specifics like whether rates are at the lower bound is not ideal."
QE Impact
Draghi will hold a press conference near Valletta at 2:30 p.m., where he's likely to face questions about the effectiveness of his efforts to sustain a recovery and rekindle price growth. Nine months to the day since he announced QE, its impact on euro-area inflation is barely noticeable. The rate fell below zero in September for the first time since bond purchases started in March, and even though the ECB president said last month that the effect of cheaper oil on consumer prices would be "transitory," the concern remains that it'll become entrenched.
More than 80 percent of economists in a separate Bloomberg survey from Oct. 9-15 said the ECB will eventually beef up asset purchases. Of those who predict more stimulus, 2 percent forecast an announcement on Thursday, 56 percent see one before the end of the year, and 86 percent say it'll happen by the end of March. The ECB's next monetary-policy meeting is scheduled for Dec. 3.
"Inflation will take longer to come back up again, which increasingly points to the ECB doing more," said Nick Matthews, head of European economic research at Nomura International Plc in London. "From my perspective, it's more about the timing of when is the most appropriate moment to extend QE, rather than whether they should act or not. There are some strategic factors that could influence the timing of a decision."
Triggering Action
One issue policy makers can neither ignore nor influence is the timing of the Federal Reserve's first increase in interest rates since 2006. Draghi and his colleagues frequently say the ECB and Fed are on diverging paths. Should the U.S. central bank delay tightening because of the slowing global economy, that would up pressure on the ECB to ease. Economists predict the Fed will raise interest rates on Dec. 16.
Another consideration will be new economic projections. Last month, officials forecast growth will accelerate to 1.8 percent in 2017 from 1.4 percent this year, and said inflation would only start to approach their goal of just under 2 percent in late 2017. The ECB will publish an update in December looking forward to 2017, and will extend that to 2018 in March. Any downward revision may provide the rationale to add stimulus.
Options include extending purchases beyond September 2016, raising the monthly size from the current 60 billion euros or broadening the range of assets. Some analysts have also floated the idea of another cut to the deposit rate, though Draghi said more than a year ago that the lower bound has been reached.
"We suspect that the debate at this week's meeting will focus on the outlook, rather than on instruments," said Greg Fuzesi, an economist at JPMorgan Chase & Co. in London. "We continue to see the ECB on hold, but regard this as a very close call."
Before it's here, it's on the Bloomberg Terminal.
LEARN MORE