Five Things Everyone Will Be Talking About Today
Time to get caught up on everything that matters for markets.
by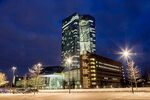 It's ECB decision day, retail sales surge in the U.K. and all eyes on Valeant. Here are some of the things people in markets are talking about today.
ECB decision
With all 53 economists surveyed by Bloomberg expecting no change to interest rates at today's European Central Bank meeting, all eyes will be on the press conference starting at 8:30 a.m. ET where analysts will be watching for any hints about further easing. The euro dropped 0.3 percent to $1.1310 as of 10:45 a.m. in London.
U.K. retail sales 
U.K. retail sales rose 1.9 percent in September, the most since December 2013 and far ahead of the 0.4 percent increase economists had forecast in a Bloomberg survey. The pound was 0.3 percent higher at $1.5460 at 10:50 a.m. London time, having risen as much as 0.6 percent when the data was published. 
Valeant drama
Yesterday was a dramatic day for Canadian drug company Valeant. The stock plunged around 40 percent after it was accused of Enron-like accounting. Shares recovered some of their losses after the company hit back against the claims, and major holder Bill Ackman confirmed that he bought more of the stock. Based on his recent disclosures, Ackman may have lost around $2.8 billion on his Valeant holdings.
Spanish unemployment
Unemployment in Spain fell to 21.2 percent in the third quarter, the lowest level since 2011. The data will give a boost to Prime Minister Mariano Rajoy's election campaign as it is the final unemployment reading ahead of the December 20 general election. Polling shows that the Spanish radical left party, Podemos, have dropped to fourth place, with new centrist party Ciudadanos rising. No party is polling high enough to form an overall majority.
China plan to dismantle capital controls
China's Communist Party meets for its fifth plenary session next week to discuss the nation's economic and social plans for the next five years with leaders poised to announce a 2020 deadline to dismantle currency controls according to a person familiar with talks now under way. The removal of capital controls is a necessary step towards China's goal of making the yuan a global currency. Overnight, the Shanghai Composite Index recovered some of Wednesday's losses, closing 1.5 percent higher. 
What we've been reading
This is what's caught our eye over the last 24 hours.
Want to receive this post, and more, into your inbox every morning? Sign up here
Before it's here, it's on the Bloomberg Terminal.
LEARN MORE