Draghi Stimulus Spells Longer Era of Negative Rates for Denmark
by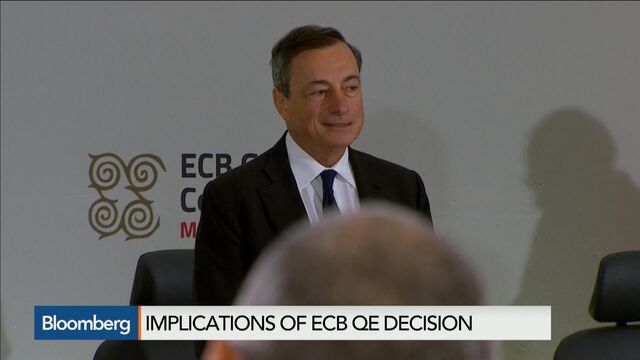 Mario Draghi's talk of further stimulus in the euro zone means Denmark will need to keep its negative policy rate "very, very low" for a "very long time yet," according to Danske Bank.
The president of the European Central Bank drove down the euro on Thursday when he suggested the single currency bloc may need a fresh injection of monetary stimulus by the end of the year to counter an economic slowdown. The Danish krone, which is pegged to the euro, hit its strongest level since July on the comments.
For AAA-rated Denmark, which has kept its key deposit rate at minus 0.75 percent since February following a speculative attack on its currency peg, the prospect of negative rates continuing for several years has already led to distortions in the property market. Even before Thursday's ECB meeting, economists surveyed by Bloomberg were predicting negative Danish rates lasting well into 2017.

The central bank will now need to leave its deposit rate at its current level for at least a year, Danske senior analyst Jens Nærvig Pedersen said in a separate note, dropping a previous forecast of two rate increases within the next six months. Denmark is unlikely to cut rates further after having reached its lower bound, and that applies even if the ECB cuts its deposit rate, he said.
"We've seen some hefty increases in property prices in Denmark," Danske Bank analyst Mikael Olai Milhøj said in an e-mailed note. The additional stimulus will mean a greater risk of overheating and bottlenecks spreading through the economy, he said.
Nykredit, Denmark's biggest mortgage bank, said this week there's a "real risk" Copenhagen's property market is heading into a bubble. While a collapse in house prices isn't imminent, the lender warned of "danger signals" and that current price developments are "unsustainable."
Since Denmark's central bank first resorted to negative rates in the middle of 2012, apartment prices in Copenhagen have soared as much as 60 percent, Nykredit estimates.
Before it's here, it's on the Bloomberg Terminal.
LEARN MORE