markets
Draghi Signals ECB May Add Stimulus This Year on Weak Growth
By
ECB president speaks in Malta after monetary-policy meeting

Governing Council discussed options including deposit-rate cut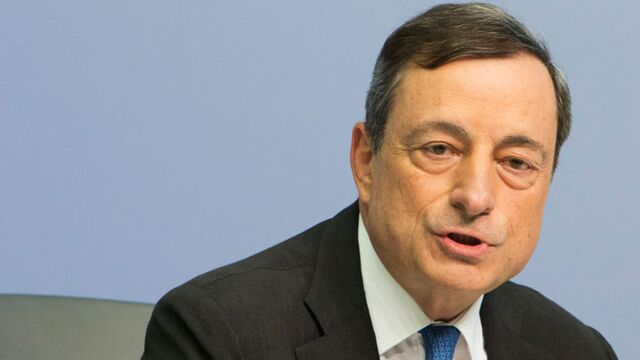 Mario Draghi said the European Central Bank will investigate fresh stimulus measures to boost the economy and that options include a further reduction in the deposit rate.
The euro slid as the ECB president said the Governing Council has tasked the central bank's committees with examining the pros and cons of different monetary-policy action. He told reporters at a press conference after the meeting in Malta on Thursday that there was a "rich discussion" about the instruments that might be used, while hinting fresh stimulus may be added before the end of the year.

"The degree of monetary-policy accommodation will need to be reviewed at our December meeting when new macroeconomic projections will be available," Draghi said. "We want to be vigilant, as people used to say in the old times."
Draghi's predecessor Jean-Claude Trichet used the phrase "vigilant" to warn of upcoming changes in policy.
The 19-nation region's woes include a global economic slowdown that is weighing on overseas sales, and a currency appreciation that's putting downward pressure on inflation. Consumer prices fell in September and while that is largely due to a drop in energy costs, there's concern that the declines may become entrenched.
The euro slid as much as 1.6 percent percent against the dollar and was down 1.4 percent at $1.1177 at 4:21 p.m. Frankfurt time. Policy makers seem to have drawn a $1.14 line in the sand for the single currency, according to Bloomberg strategist Vassilis Karamanis, who points to verbal interventions whenever the common currency closed higher.

"The communication at the press conference was as dovish as it could have possibly been without announcing more policy easing at this meeting; message received and understood," said Ken Wattret, chief euro-zone market economist at BNP Paribas SA in London. "Eyes down for action on Dec. 3 -- it's merely a question of the form it takes."
Officials earlier left their key interest rates unchanged. The benchmark rate was kept at 0.05 percent and the deposit rate at minus 0.2 percent, both record lows. Draghi said officials discussed a potential future cut in the deposit rate at Thursday's meeting. More than a year ago he said that rate had reached its lower bound.
"Today, things have changed," Draghi said on Thursday. "That doesn't necessarily imply that we are going to use this instrument. The discussion was wide open."
Global Outlook
Even before Draghi's comments, pressure was mounting on the ECB to step up its 1.1 trillion-euro ($1.2 trillion) bond-buying program. Most economists in a Bloomberg survey predicted that more action would come before year-end.
Nine months to the day since the ECB president won the battle in the Governing Council to start QE, the impact on euro-area inflation is barely noticeable. Last month, the rate fell below zero for the first time since bond purchases started in March, and even though Draghi said last month that the effect of cheaper oil on consumer prices would be "transitory," the concern remains that the weak rate will become entrenched.
Draghi said a few members of the Governing Council had hinted that they were ready to act now, but that it wasn't a prevailing theme of the discussion. He also said there was no preference for any particular instrument. Before the Malta meeting, most members had signaled publicly that they wanted more data before deciding what to do. The ECB will publish new staff projections on Dec. 3 when policy makers meet in Frankfurt for the final rate setting meeting of the year.
One factor officials must weigh is the timing of the Federal Reserve's first increase in interest rates since 2006. Draghi and his colleagues frequently say the ECB and Fed are on diverging paths. Should the U.S. central bank delay tightening because of the slowing global economy, that would up pressure on the ECB to ease. Economists predict the Fed will raise interest rates on Dec. 16.
— With assistance by Catherine Bosley, Jennifer Ryan, Alessandro Speciale, Jill Ward, Vassilis Karamanis, Carolynn Look, Fergal O'Brien, Nicholas Comfort, Zoe Schneeweiss, Jana Randow, Jeff Black, and Karl Stagno Navarra
(Updates with comment from economist in seventh paragraph.)
Before it's here, it's on the Bloomberg Terminal.
LEARN MORE