Draghi Repeating ECB History Primes Euro Area for Stimulus
by and
ECB president evokes Trichet with vigilance needed on prices

Prospect of more monetary stimulus knocks 2 cents off euro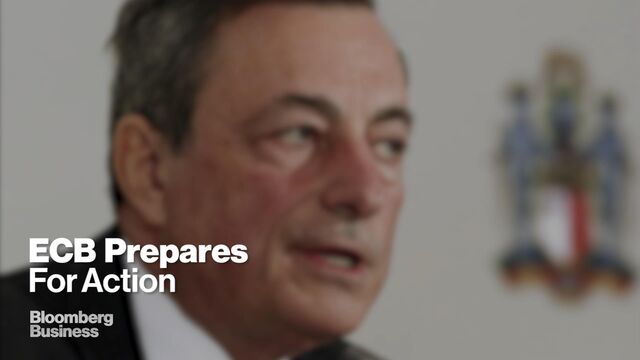 If you want an idea of Mario Draghi's plan for the euro area, revisit 2014.
In May last year, as the threat of deflation stalked a euro area barely out of recession, the European Central Bank president's comment that his Governing Council was comfortable with acting prefigured interest-rate cuts and a program of targeted long-term loans the next month. In November, saying ECB committees had been "tasked" with preparing further measures was a precursor to the announcement of quantitative easing in January.
On Thursday in Malta, Draghi said the committees have been given their orders again and that the ECB wanted to be "vigilant," echoing his predecessor Jean-Claude Trichet's preferred signal for an imminent policy change. Investors took the hint, sending the euro tumbling and German bond yields to a record low -- and economists debating whether policy makers will cut rates, expand QE, do both or even more.
"QE2 is coming for sure," said Marco Valli, chief euro-zone economist at UniCredit SpA in Milan, referring to a ramp-up of the ECB's asset-purchase program before it is even halfway through. "When Draghi is concerned about tighter financial conditions, especially via the exchange rate, he always does a good job of communicating to the market."
That communication is an acknowledgment that the euro area's fragile economic recovery is at risk of being derailed. An emerging-market slowdown is dragging on global trade and a rising currency is putting further downward pressure on an inflation rate that dropped below zero last month.

While Draghi reiterated his belief that the 19-nation currency bloc is not in deflation, or a downward spiral of prices and wages, he made clear he's ready to act to stem what Executive Board member Peter Praet two weeks ago called a "seeping pessimism" in the euro area.
Falling prices and potentially weakening growth in the region are raising the prospect of more stimulus, Markit Economics said on Friday. While a Purchasing Managers' Index for manufacturing and services unexpectedly increased to 54 in October from 53.6 in September, signaling a pickup in activity, forward-looking indicators point to a risk of a slowdown, it said. Service-sector expectations for the year ahead fell to a 10-month low, while the factory orders-to-inventory ratio dipped to the weakest level in nine months.
An ECB survey of professional forecasters also published on Friday showed cuts in inflation projections through 2017.
Draghi's readiness to ease monetary policy as much as it takes to return inflation to the ECB's goal of just under 2 percent can be traced back to another 2014 event -- his speech in Amsterdam on April 24. That's when he laid out the three contingencies that would prompt an ECB response.
Unwarranted monetary tightening -- such as rising bond yields or a stronger euro -- could be tackled by a cut in interest rates, he said. Impairments in policy transmission might be handled by long-term loans to banks or purchases of asset-backed securities. A worsening of the inflation outlook would require a broad-based asset-purchase program.
All have occurred in the past year and triggered the responses. Eighteen months later those contingencies still stand.
All Instruments
"We may well change the size, the composition, the design, of all our monetary-policy instruments, as needed," Draghi said on Thursday.
His confirmation that the Governing Council is considering a deposit-rate cut even after he declared last year that it was at the lower bound may well be the boldest sign of Draghi's determination to heal the euro-area economy.
The case for even lower deposit rates in the currency bloc and other European nations was outlined this week in a report by Deutsche Bank AG strategists Abhishek Singhania and Oliver Harvey. They argued banks can still absorb current negative rates and have even muted their effect. For the ECB, an improvement in financial conditions and the fact the region's banking system is not as fragmented as it was may make it a viable option.
"Faced with a disinflationary shock due, for example, to a further worsening in external conditions, further cuts to the deposit rate may be appropriate," they said.
Asked about the likelihood of further ECB action, Draghi said that the Governing Council's discussions were less a case of "wait and see" than "work and assess." Driving home his reference to Trichet's signals -- which his predecessor in fact used to flag policy tightening rather than easing -- he said "we want to be vigilant, as people used to say in the old times."
While Trichet declined to comment on Draghi's choice of words, he did say that the reaction they triggered in financial markets shows that investors take the ECB president's message seriously.
Still, an eventual decision is not a foregone conclusion and remains data-dependent, said Anatoli Annenkov, senior economist at Societe Generale SA in London.
"It's probably not a coincidence that Draghi is using Trichet's words -- he wanted to send a very strong signal," he said. "It shows the importance for the ECB to be seen as credible on their inflation target, and to counter any potential loss of credibility in the short term."
Before it's here, it's on the Bloomberg Terminal.
LEARN MORE