Horse Race
Clinton-Sanders Fight Gathers Strength in Iowa: Bloomberg Politics/Des Moines Register Poll
The top Democrats split Biden supporters. Likely caucus-goers aren't fazed by Clinton's e-mail issue. And Sanders has an Iowa problem—and it's not socialism.
By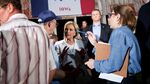 With Vice President Joe Biden officially out of the presidential race, the nation's first nominating contest between front-runner Hillary Clinton and Senator Bernie Sanders is gaining steam, according to a new Bloomberg Politics/Des Moines Register Iowa Poll.
Clinton leads the field with 48 percent of likely Democratic caucus-goers when Biden's supporters are re-allocated to their second-choice candidates; Sanders is in second place at 41 percent. Clinton led Sanders by a similar margin of 43 percent to 35 percent in the Iowa Poll conducted in August.
With Biden in the mix, he received the support of 12 percent of likely Democratic caucus-goers in the October poll, cutting Clinton's advantage to 5 points from 7 points. Without him, his supporters split almost evenly between the leading alternatives: Clinton's support went up 6 points, Sanders's 4 points.
Biden's announcement on Wednesday that he won't run for president is "good news for every candidate in that you have 12 percent of the vote that was aligning first with Vice President Biden and is now free to go someplace else," said J. Ann Selzer, the president of the Iowa-based Selzer & Co., which conducted the poll.
Read the questions and methodology here.

In a Bloomberg Politics/Saint Anselm New Hampshire poll released Tuesday, Sanders led a horse race that included Biden with 41 percent, followed by Clinton with 36 percent and the vice president with 10 percent. Without Biden in the mix, Sanders's support went up 6 points to 47 percent and Clinton's support went up 3 points to 39 percent.
Biden's decision "means I'm probably going to favor Hillary Clinton," said Richard Willett, a 64-year-old retired dining services direction and political independent from Laconia, New Hampshire. "I think he hurt himself —he should have probably got in a little earlier to get on to that debate."

The Iowa Poll was conducted days before Clinton's scheduled testimony on Thursday before the House committee investigating the 2012 attacks in Benghazi, Libya, that killed four Americans when she was secretary of state. That probe also led to the revelation that Clinton used a private e-mail server while she was at the State Department, a practice for which she has since apologized.
Majorities of likely Iowa Democratic caucus-goers say they aren't concerned that Clinton has been less than forthcoming about her server (81 percent) or her delayed or changed positions on key issues (64 percent). About three-quarters said lawmakers' probes into Benghazi were not worth the time and money, while about the same number of likely Republican caucus-goers took the opposite view. In New Hampshire, almost half of likely Democratic primary voters said they thought Clinton was telling the truth about her server.

More than 80 percent of likely Democratic caucus-goers also said they weren't bothered by Sanders's self-styled "democratic socialist" label. But by a margin of 60 percent to 39 percent, they said Sanders's past votes against waiting periods and background checks for gun buyers—which have come under new scrutiny since a community college shooting in Oregon on Oct. 1—make them less likely to support him.
"Sanders has a big problem and it's guns, not socialism," Selzer said.
The Trans-Pacific Partnership trade pact—which Clinton announced she opposed on Oct. 7—would be good for Iowa, said a plurality (39 percent) of likely Democratic caucus-goers. Twenty-seven percent said it would be bad for the state and about a third were unsure. On the Republican side, respondents were about evenly split on whether the deal would be good or bad, but a plurality, 42 percent, said they didn't know.

The party's first televised debate on Oct. 13 appears to have boosted each candidate's favorablity rating among likely Democratic caucus-goers—Clinton rose 8 points to 85 percent, Sanders rose 9 points to 82 percent, and former Maryland Governor Martin O'Malley rose 10 points to 43 percent.
Sally Latta, 82, of West Des Moines said the debate her steered her toward Clinton. "I had been leaning toward Bernie Sanders. I like a lot of his ideas, but Hillary was so effective and ... I really want to win the election, and therefore I think I'm going to go for Hillary," she said. "Bernie Sanders was good, but Hillary was better."
Bill Vognsen, a retired union member from Cedar Falls, Iowa, supported Biden. His second choice was former Virginia Senator Jim Webb, who dropped out of the Democratic race on Oct. 20. Vognsen says he isn't sure what he'll do next.
"I just like Joe because I thought he was more of a regular guy, and like somebody said, he's a guy that you could sit down and probably have a beer with," Vognsen said. "All the rest of them, I don't know—I'm even starting to look at some of the Republicans."
In Iowa, Selzer & Co. polled 402 likely Democratic and 401 likely Republican caucus attendees from Oct. 16-19 with a margin of error of plus or minus 4.9 percentage points for each party. In New Hampshire, Purple Strategies polled 400 likely Democratic primary voters from Oct. 15-18 with a margin of error of plus or minus 4.9 percentage points.
(Contributing: Arit John and Alison Elkin)
Before it's here, it's on the Bloomberg Terminal.
LEARN MORE