Restaurants
Best Cheap Eats in Chicago, According to the 2016 Michelin Guide
The Bib Gourmand list drops today, with Chicago's best Chinese, Peruvian, and Vietnamese eats.
By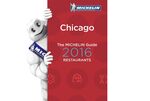 If it seems as if the restaurant star announcements have been rolling in nonstop, it's because right now we're at the height of Michelin season. Today the French restaurant guide drops its list for Chicago's "Bib Gourmands," a status that indicates value for money, according to Michelin. 
Selections are made by the same anonymous food inspectors who evaluate fine dining restaurants, and the criterion is as follows: Restaurants must serve two courses and a glass of wine or dessert for $40 or less (before tax and gratuity). 
This year the guide had added restaurants in Andersonville, Edgewater, and Uptown to the list, making for a total of 58. Newcomers include Angry Crab, MingHin, Via Lima, Bohemian House, Dove's Luncheonette, the Duck Inn, mfk, and Yusho. 
Here's the full list:
Andersonville, Edgewater, and Uptown
The Angry Crab
Herb
Hopleaf
Jin Thai
Luella's Southern Kitchen
Sabri Nihari
Spacca Napoli 
Bucktown and Wicker Park
Arami
Belly Shack
Carriage House 
Cumin
The Dawson 
Dove's Luncheonette
Green Zebra
Mana Food Bar
Mott St.
Two 

West Loop
Au Cheval
Avec
bellyQ
Girl & The Goat
Jaipur
Maude's Liquor Bar
The Publican 
Sushi Dokku 
Humboldt Park & Logan Square
Smoque BBQ
Sol de Mexico 
Table, Donkey and Stick
Fat Rice
Jam
Kai Zan
Lula Cafe
Yusho

River North
Bohemian House
Beatrix
Frontera Grill
Gilt Bar
GT Fish & Oyster
Slurping Turtle
Untitled Supper Club 
Chinatown & South
A10
Lao Sze Chuan
MingHin 

Lincoln Park & Old Town
Balena
mfk 
Riccardo Trattoria 
Lakeview & Wrigleyville
Ceres' Table
Chilam Balam
TAC Quick
Via Lima
Wood 

Pilsen, University Village, & Bridgeport
County
DeColores
The Duck Inn 
Han 202
Nana 
Gold Coast
Pump Room 
Streeterville
The Purple Pig
Before it's here, it's on the Bloomberg Terminal.
LEARN MORE