Stocks Jump on China Rate Cut, Tech Earnings; Treasuries Fall
by and
Alphabet, Amazon, Microsoft shares add more than $80 billion

PBOC cuts interest rates as central banks aim to revive growth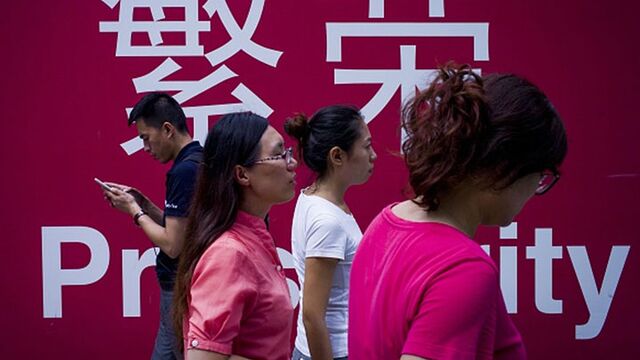 Central banks reasserted their dominance over financial markets, with fresh stimulus from China adding to a rally in risk assets that has global equities on track for the best month in four years.
The Standard & Poor's 500 Index erased its loss for the year as Google parent Alphabet Inc., Amazon.com Inc. and Microsoft Corp. added more than $80 billion in market value after earnings topped estimates. Emerging-nation stocks capped a fourth weekly gain as the People's Bank of China cut interest rates a day after the European Central Bank signaled it will bolster stimulus if needed. Treasuries fell, pushing the 10-year yield to a two-week high, while the dollar is on its longest winning streak in 10 months.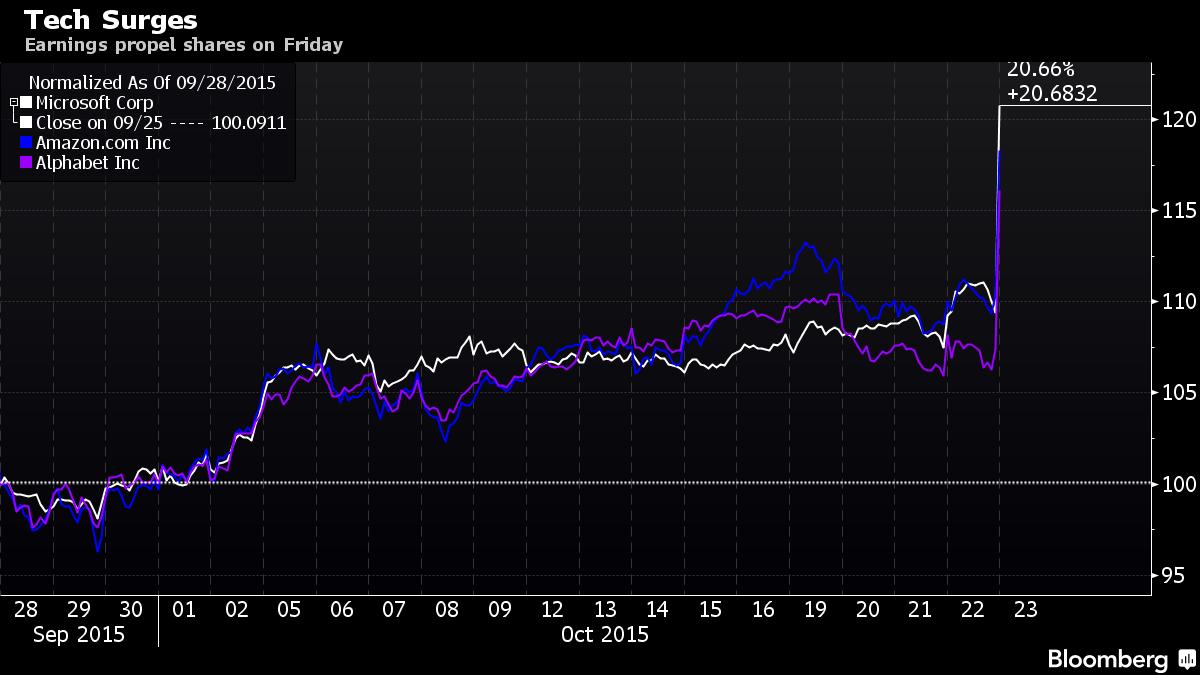 "You've got some follow-through on Europe with Chinese QE news this morning and corporate earnings are coming in better than expected," Phil Orlando, who helps oversee $360 billion as chief equity-market strategist at Federated Investors Inc. in New York., said by phone. "When you get quality companies like Amazon reporting good numbers it reminds investors not every company in the S&P is not energy or materials and that some companies are growing." 
China expanded monetary easing, ahead of Bank of Japan and Federal Reserve meetings next week, as central banks worldwide seek to revive slowing global growth and lackluster inflation. The dollar surged to the highest level this month and demand for haven assets ebbed.
Stocks
The S&P 500 jumped 1.1 percent at 4 p.m. in New York, erasing a loss in 2015 that reached as much as 9.3 percent on Aug. 25. The index has rallied 11 percent from that trough as it recovers from the worst quarterly rout in four years. The gauge rose 2.1 percent in the past five days to cap a fourth straight weekly gain.
The Nasdaq 100 Index surged 2.7 percent to the highest level since July, as Amazon jumped 6.2 percent after reporting third-quarter sales that topped analysts' estimates thanks to its fast-growing cloud-computing division. Alphabet climbed 5.6 percent and Microsoft gained 10 percent to the highest level since March 2000.
"The results are the dominant force at the moment and there's a underlying positive tone," said Otto Waser, chief investment officer at R&A Research & Asset Management AG in Zurich. "We had a bit of a weak start in the earnings season, and it now looks like some companies are going to be able to deliver good results."
The MSCI All-Country World Index added 0.9 percent for a fourth weekly gain. The Stoxx Europe 600 Index climbed 2 percent to post the biggest two-day gain since July. The gauge added 3.9 percent in the past five days for a third straight weekly gain.
Currencies
International Monetary Fund representatives have told China that the yuan is likely to join the fund's basket of reserve currencies soon, according to Chinese officials with knowledge of the matter.
The Bloomberg Dollar Spot Index rose for a seventh day to the highest level this month. Investors viewed the PBOC's decision to lower its benchmark lending rate as an effort to address recent turmoil in emerging markets.
The euro tumbled for a second day versus the dollar, weakening 0.7 percent to $1.1035. It's fallen 2.8 percent in the week, the worst performance since July. Yesterday the ECB suggested it's prepared to add to its bond-buying program this year if the growth continues to slow and inflation remains low.
All of the 43 potential carry trades funded in euros tracked by Bloomberg have made money since ECB President Mario Draghi on Thursday left little doubt he's ready to act. A carry trade uses currencies with low rates to buy those of nations with higher yields.
Bonds
The demand for the havens of government debt fell, pushing the yield on the 10-year Treasury note to 2.08 percent, the highest since Oct. 12. The yield on German 10-year bonds added two basis points to 0.51 percent, after dropping seven basis points on Thursday.
"You'll see a lot more selling, you'll see a little more certainty that things are improving, so continued pressure on the long end of the curve," said Aaron Kohli, a fixed-income strategist at Bank of Montreal, one of 22 primary dealers that trade with the U.S. central bank.
Emerging Markets
The MSCI Emerging Markets Index rose 0.9 percent to cap a fourth straight weekly advance, the longest streak since April. Developing-nation stocks are rebounding in October, after five months of losses, amid speculation the Fed will delay raising interest rates.
Brazil's Ibovespa extended its weekly advance after China cut interest rates to bolster the economy of Brazil's largest trading partner. The Shanghai Composite Index advanced for a second day. A gauge of property stocks jumped to the highest level since Aug. 20 as a report showed house prices increased in more than half of China's 70 major cities.
Commodities
The Bloomberg Commodity Index fell 0.8 percent, extending a weekly drop to 2.6 percent, the most since August.
Oil capped its biggest weekly decline since August as expanding U.S. crude stockpiles exacerbated a global glut. West Texas Intermediate crude fell to a three-week low, widening its discount to Brent. U.S. inventories expanded for a fourth week through Oct. 16, keeping supplies more than 100 million barrels above the five-year seasonal average.
Copper declined for a fifth time in six sessions as traders shifted from optimism over a rate cut in China to focusing on the nation's lackluster demand for metals. Enthusiasm among copper traders begun to wear off as the cut stoked concern over how poorly the nation's economy is performing. The Asian country accounts for almost half of global demand for the metal.
Before it's here, it's on the Bloomberg Terminal.
LEARN MORE