An Economist Is Throwing Cold Water on Those Sinking Jobless Claims
"We are not in uber-boom mode," says Renaissance Macro's Neil Dutta.
By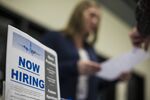 U.S. initial jobless claims continue to linger near generational lows, coming in at 259,000 for the week ending Oct. 17.
But according to Neil Dutta, head of U.S. economics at Renaissance Macro, that's no reason to get too excited.
After the previous release showed filings fell to their lowest level in more than four decades, the economist explained why this metric is painting a rose-colored view of the U.S. labor market's health and prospects for employment growth.
"We would much rather watch jobless claims fall than rise," Dutta wrote. "That being said, initial claims overstate the strength in the labor market."
Far more often, you'll hear people talk about how initial jobless claims understate the strength of the economy relative to previous periods—that claims, adjusted for the size of the labor force, are actually at historic lows.
But Dutta points out that one has to take into account where we are in the business cycle when examining this flow variable, because the health of the labor market influences whether people file for benefits. If jobs are perceived to be plentiful and job openings are abundant—both of which happen to indicate the current situation—laid-off individuals won't bother applying.

"Given where we are in the business cycle, the filing rate is declining," wrote Dutta. "This, in turn, implies that the breakeven level (level consistent with job growth) on claims is falling)."
He calculates a breakeven level for claims by bringing data from the Job Openings & Labor Turnover Survey into the equation. First, he calculates the filing rate by dividing initial claims by total layoffs and discharges. Then he subtracts quits and other separations from total hires, which leaves him with net job growth plus layoffs and discharges. The product of this number and the filing rate is the breakeven claims level. 
Or, expressed differently:

When claims are below the breakeven level, this suggests employment growth is positive: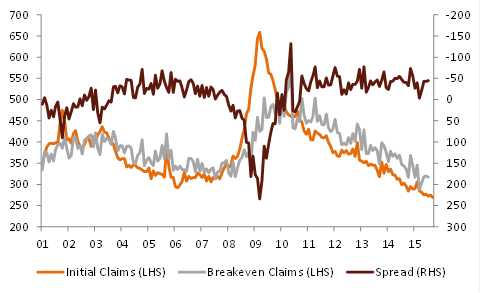 Dutta's analysis helps square the circle of why employment growth hasn't picked up steam while initial claims have been on a downward trend—because the latter metric is offering incomplete information on flows out of employment and is completely missing hiring, the other half of the equation.
Looking at this chart, the economist concludes that "we are not in uber-boom mode" and that the spread between the breakeven level and initial claims is consistent with payroll growth of about 180,000.