American Spirit: A Coast-to-Coast Craft Distillery Crawl
Distilleries are busting out all over the U.S., producing more than just your typical Kentucky bourbon. Here are six to tour and what you'll sip along the way.
By
St. Augustine Distillery
St. Augustine, Fla.


The facility, in a converted 1917 ice manufacturing plant, was designed and built by former Maker's Mark master distiller Dave Pickerell and has a Prohibition-era feel. Groups gather in a museum to learn about the history of craft distilling and the local ingredients used in St. Augustine's spirits. Free tours, which run every half-hour from 10 a.m. to 6 p.m. (11 a.m. to 6 p.m. on Sunday), include a sample of two cocktails made with the brand's vodka and gin. staugustinedistillery.com
Best bottle: Florida cane vodka ($28) is made from only the hearts of local sugar cane. It's soft, with a full mouthfeel and a finish that has hints of anise and green apple.
Where to stay: In the center of downtown St. Augustine's historic district is Casa Monica, a luxurious Moroccan-style hotel first opened in the 19th century and used as a county courthouse until the 1970s. On weekends, park rangers shoot off antique cannons at the nearby Castillo de San Marcos, one of the oldest military forts in the U.S. From $459 per night; casamonica.com
Berkshire Mountain Distillers
Sheffield, Mass.

In the eighth grade, Chris Weld tried to make a still for a science project but was shut down by his mother when she discovered it was illegal. Almost three decades later, he started making brandy as a way to use up extra apples at his family's Berkshires farm. Hourlong grain-to-glass tours of the facility run from noon to 4 p.m. on Fridays and Saturdays, during which you can handle ingredients, get a whiff of spirits at various stages in the distilling process, and sample the finished product. $10; berkshiremountaindistillers.com
Best bottle: Berkshire is known for its Ragged Mountain rum ($30), which has toasted nut, cigar, caramel, and vanilla flavors—perfect for sipping.
Where to stay: The Old Inn on the Green in the neighboring town of New Marlborough is housed in a former stagecoach relay from the 1700s that's been converted into a classic New England bed-and-breakfast. From $249 per night, includes breakfast; oldinn.com
Asheville Distilling
Asheville, N.C.

On Fridays and Saturdays, free 20-minute tours at 5 p.m. and 6 p.m. culminate in a tasting of the distillery's five white whiskeys. You'll want barbecue afterward, so plan to stop by Buxton Hall, the newest pit in town. ashevilledistilling.com; buxtonhall.com
Best bottle: Award-winning Troy & Sons platinum whiskey heirloom moonshine ($30) is made with Appalachian spring water and a type of corn called Crooked Creek, which has a higher protein and fat content than other varieties. The resulting spirit is remarkably smooth, with a buttery aroma and fruity undertones.
Where to stay: The Inn on Biltmore Estate, a few miles away, overlooks the 8,000-acre grounds and 250-room chateau once owned by George Vanderbilt. From $609; biltmore.com/stay/inn
St. George Spirits
Alameda, Calif.

Housed in an old naval hangar facing San Francisco Bay, the 31-year-old distillery is a scenic 20-minute ferry ride from San Francisco's Ferry Building, or a 10-minute car ride from Jack London Square in Oakland. Tours take place at 5:30 p.m. Wednesday through Friday and every hour from 1 p.m. to 6 p.m. on weekends. Bring food or buy snacks on site—the outdoor deck is a great picnic spot. $20; stgeorgespirits.com
Best bottle: Terroir gin ($35) tastes like a glassful of forest, with a woodsy aroma that comes from Douglas fir, California bay laurel, and coastal sage.

Where to stay: The 1960s-style Waterfront Hotel in Oakland has 143 nautical-themed rooms overlooking the marina. While you're in town, take a stroll down suddenly hip Temescal Alley. Formerly lined with stables, it's now home to boutiques, cafes, and (naturally) an old-school barbershop. From $349 per night; jdvhotels​.com/waterfront-hotel
High West Distillery & Saloon
Park City, Utah

High West—which became Utah's first legal distillery in 1870—is at the bottom of a ski run and across the street from a chairlift. Ski in for a free tour at 2:15 p.m. or 3:30 p.m. Monday through Thursday, or at 1:00 p.m., 2:15 p.m., or 3:30 p.m. Friday through Sunday. highwest​.com
Best bottle: Rendezvous rye ($54) combines fiery six-year and mellow 16-year rye whiskey to create a feisty, full-flavored blend.
Where to stay: Originally built as a school in 1889, the Washington School House Hotel got a boutique upgrade four years ago and now has seven rooms and five suites, plush public spaces with soaring ceilings, and an on-call ski valet. From $266 per night, breakfast included; washingtonschoolhouse.com
Clear Creek Distillery
Portland, Ore.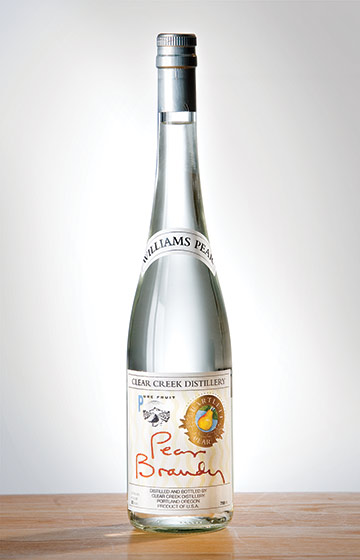 Portland may be known for beer, but Clear Creek, founded in 1986, produces seven kinds of excellent eaux de vie from Pacific Northwest fruit and a brandy from Douglas fir buds. The distillery doesn't offer regular tours, but its tasting room is open seven days a week. Try to swing by during an open house, held twice a year, in spring and fall, when staffers pour samples next to the stills and will happily show you around. clearcreekdistillery.com
Best bottle: Williams pear brandy ($40), produced with locally grown Bartlett pears, is a strong, pure fruit spirit distilled in German-made stills.
Where to stay: Take a 15-minute cab ride to the Jupiter Hotel, formerly a midcentury-style motor inn, where rock bands play every night in the Doug Fir Lounge. From $139 per night; jupiterhotel.com
Before it's here, it's on the Bloomberg Terminal.
LEARN MORE