American Killed Assisting in Raid on Islamic State Prison
by
Special operations forces helped Kurds in prison rescue

Islamic State prison site in northern Iraq hit by troops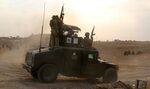 A member of a U.S. special operations team was killed during a raid to free hostages of Islamic State in northern Iraq, the first American to die in action in the country since U.S. forces returned to assist in the battle against the extremist group.
The service member, who hasn't been publicly identified, was part of a special operations team assisting Kurdish Peshmerga forces who raided an Islamic State-controlled prison near Hawijah, according to a Pentagon statement Thursday.
The White House insisted that the U.S. participation in the raid didn't violate President Barack Obama's vow when he sent advisers and trainers to Iraq last year that American personnel won't be engaged in combat missions.
U.S. military personnel have a "narrow mission" in Iraq to train and advise local forces as well as conduct counterterrorism and humanitarian rescue operations, Eric Schultz, a White House spokesman, told reporters. But Obama "was very candid that Americans would not be serving in a combat role, but they would be taking significant risk," he said.
About 70 prisoners -- including 20 members of the Iraqi security forces -- were freed in what General Lloyd J. Austin III, commander of U.S. Central Command, described in a statement as "a complex and highly successful operation."
Imminent Execution
The raid, requested by the Kurdistan Regional Government, was launched after receiving information that the hostages "faced imminent mass execution," Peter Cook, the Pentagon press secretary, said. U.S. forces provided the helicopter trip to the site and accompanied the Iraqi forces to the compound.
Five members of Islamic State were captured and an unspecified were killed in the gunfight, according to Cook. The U.S. also recovered "important intelligence" in the raid. Four Iraqi soldiers were wounded.
The overnight mission was the first time the Obama administration has officially confirmed American participation in a commando operation against Islamic State in Iraq.
"I wouldn't suggest you should look at this as some change in tactics on our part," Cook told reporters at the Pentagon. "This was a unique circumstance in which very close partners of the United States made a specific request for our assistance."
Schultz said the operation was approved by Secretary of Defense Ashton Carter under existing protocols for U.S. operations in Iraq. He declined to say whether Obama had advance notice or when he was informed of the outcome, saying only that such issues are typically discussed in the president's daily briefing.
The White House has previously acknowledged such efforts in Syria, where the terror group has captured swaths of land amid that country's civil war. That included a dramatic raid in May on the home of Abu Sayyaf, a top financier for the group. He was killed in the operation.
After declaring an end to the Iraq war in 2011, the administration late last year returned more forces to the country as Islamic State captured territory in Iraq and Syria. The U.S. now has about 3,500 military personnel in Iraq and has been conducting airstrikes against Islamic State positions there and in Syria.
Before it's here, it's on the Bloomberg Terminal.
LEARN MORE