Wary of Russia, Poland Throws NATO Spending Into Election Debate
by
Leading party plans NATO's biggest defense budget after U.S.

Existing Airbus and Raytheon contracts will be reviewed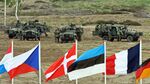 Polish politicians on course to oust the government in this weekend's election say Russia's latest flexing of its military muscles is bad news for their country. Defense companies might see it another way.
As NATO's largest east European member, Poland needs to raise spending on military hardware to 2.5 percent of gross domestic product, according to the opposition Law & Justice Party, which is well ahead in opinion polls before the Oct. 25 vote. That equates to $14 billion and it would make Poland the biggest spender in the alliance as a percentage of the economy after the U.S., NATO's latest figures show.

"The geopolitical situation around Poland worsened in recent years," Jaroslaw Gowin, the candidate for defense minister put forward by Law & Justice, which gains more of its support from the east of Poland bordering Ukraine and Belarus, said in an interview. "We need to prepare our army for defending the country, not only for military expeditions."
While a change in power in Warsaw will likely trigger a review of planned contracts for Airbus Group SE helicopters and Raytheon Co. missile systems, it would also lead to new ones. Russia's involvement in the 18-month bloody conflict in Ukraine and now airstrikes in Syria are fostering concern about President Vladimir Putin's foreign policy in Poland, historically Europe's buffer state between east and west.
Hardware Market
Polish President Andrzej Duda, who was the Law & Justice candidate, has called for a broader NATO presence on the alliance's eastern flank. The U.S. recently prodded European governments to meet a NATO commitment to boost defense spending to its target of 2 percent of GDP to help face down Russia.
The incumbent Civic Platform government plans to keep military spending at the NATO recommendation. Law & Justice, whose campaign promises include what it calls asserting Polish interests, wants to speed modernization of the military, increase the number of full-time soldiers to 150,000 from the existing 100,000 and push for permanent bases for NATO troops on its soil at next year's summit of the defense alliance, said Gowin.
"With a new defense spending target, Poland will become an even more interesting market for military hardware contractors," said Sijbren de Jong, an analyst at The Hague Centre for Strategic Studies. "It seems that the opposition party will try to push Polish individual interest more in NATO and EU forums after winning the elections."
Poland tripled its annual military spending to 36 billion zloty ($9.6 billion) since it joined the North Atlantic Treaty Organization in 1999. It bought F-16 jet fighters and Casa transport planes, partly to replace aging Russian aircraft. It also upgraded its fleet of armored vehicles, tanks and rocket launchers. The nation aims to spend 92 billion zloty through 2022 on helicopters, air missile systems, drones and navy vessels.
Airbus Talks
Gowin will seek an increase in the defense budget starting in 2016. The priority in new purchases would be "ensuring that they are part of re-industrialization of the country, not only fulfilling expectations of army generals," he said.
If elected, the 13.6 billion-zloty procurement disclosed in April for 50 Airbus Caracal aircraft would come under review after being criticized by Law & Justice because rival bidders were more active in Polish manufacturing. Gowin said he's not in favor of "immediately canceling" contracts, while Airbus reiterated it was ready to discuss its offer with the future government.
Airbus Helicopters remains "strongly committed to the ongoing negotiations," spokesman Yves Barille said by e-mail this week. "We are fully prepared to provide all necessary clarification of our industrial offer to the Ministry of Economy and negotiate with them the offset contract."
Gowin also said he wants to look at the 11 billion-zloty purchase of Raytheon's Patriot missile system by the middle of 2016. He favors building a fleet of modern submarines with missile systems, though Law & Justice hasn't said which areas it first plans to spend more money on. "It's still yet to decide," he said.
Before it's here, it's on the Bloomberg Terminal.
LEARN MORE