Mueller Plans Leaner VW as Labor Chief Calls for Model Cuts
by and
Merkel says VW must move swiftly to clarify what happened

Lower Saxony files complaint after VW documents disappear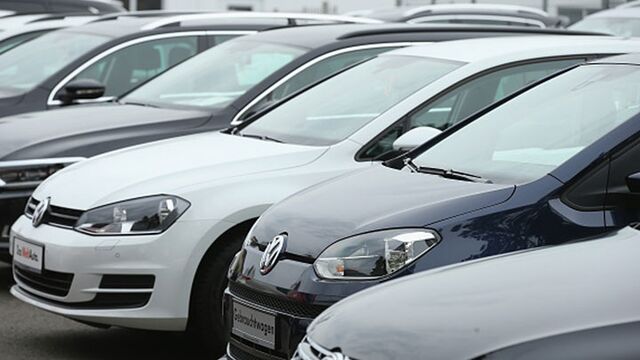 Volkswagen AG Chief Executive Officer Matthias Mueller said the automaker must become more efficient after VW's top labor leader called on management to reduce the number of models in the face of ballooning costs from the diesel emissions cheating scandal.
"It is my job -- and that of my colleagues in the group and the brands-- to refocus this group, to make it leaner, more disciplined, more willing to make decisions and, in the end, also more efficient and more effective," Mueller told reporters during a visit by Lower Saxony Prime Minister Stephan Weil to VW headquarters in Wolfsburg, Germany.
Bernd Osterloh, works council chief and a VW supervisory board member, told German newswire dpa that executives should look again at a 2014 plan from labor leaders to focus on more profitable models and reduce the 12-brand behemoth's complexity.
Mueller said this month that, while the carmaker doesn't need a revolution, he's delaying or canceling non-essential projects to cut costs after VW admitted to cheating on U.S. emissions tests. The automaker announced a recall last week of 8.5 million diesel vehicles in Europe, and Mueller has said the fallout from the scandal will cost more than the 6.5 billion euros ($7.4 billion) already set aside.
German Chancellor Angela Merkel on Wednesday called on VW to move quickly to clarify what happened in the emissions cheating scandal "so that credibility can be restored," adding that Germany's reputation as a good place to do business was also on the line.
Uncovering Truth
"We're still in the process of clearing up this case -- not only to identify those who are guilty, but also to draw the right conclusions for the future," Mueller said.
Volkswagen told European dealers to stop selling diesel vehicles with the engine type at the heart of the scandal, adding that the number of unsold cars is "very limited."
The automaker has seen no evidence thus far that the crisis is affecting sales, Stephan Weil the premier of Lower Saxony, said during his visit. VW is based in Lower Saxony and the state owns 20 percent of the automaker's voting rights.
The state government filed a complaint with prosecutors after documents related to VW's diesel cheating disappeared from Lower Saxony's chancellery. Authorities are investigating whether the files were stolen or simply lost, said Kathrin Soefker, a spokeswoman for the prosecutor's office in Hanover. The missing documents didn't contain sensitive information, said Michael Juerdens, a Lower Saxony spokesman.
Audi Chief Executive Officer Rupert Stadler told workers on Wednesday that the luxury brand will bring an electric SUV to market in 2018 as planned, and build additional electric models in the future, as it works to win back the trust of customers.
Before it's here, it's on the Bloomberg Terminal.
LEARN MORE