Valeant Plummets on Allegation of Enron-Like Accounting
by
Citron Research, run by short seller, publishes report

Drugmaker has been focus of debate over price increases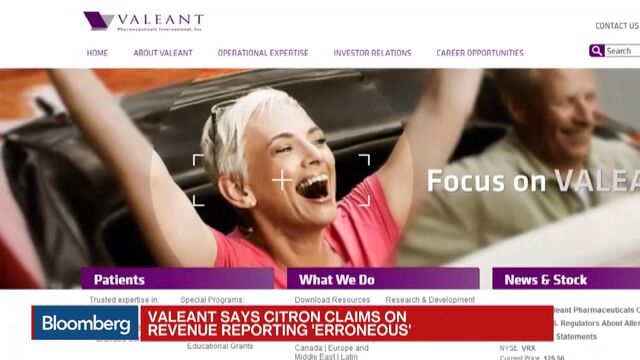 Valeant Pharmaceuticals International Inc. shares took a beating, falling more than 30 percent, after a stock-commentary site run by a short seller accused the company of an Enron-like strategy of recording fake sales by using phony customers.
Citron Research said Valeant is using a specialty pharmacy called Philidor RX Services to store inventory and record those transactions as sales. "Is this Enron part deux?" the report said. "These similarities are too close to ignore."

Valeant fell 38 percent to $91.45 at 1:19 p.m. in New York, headed for its biggest one-day drop since at least 1994. Citron, founded by Andrew Left, has been a dogged critic of Valeant's business model, denouncing its reliance on acquiring drugmakers and then jacking up the prices of their products, which have been on the market for years. The report published Wednesday said Valeant uses "phantom accounts" to fool auditors and investors.
A spokeswoman for Valeant declined to comment.

The company has been at the forefront of an intensifying debate over price increases for older drugs in the U.S. Last week it said it had received subpoenas from the U.S. Attorney's Office in Massachusetts and the Manhattan U.S. Attorney's Office seeking information on its patient assistance programs, drug distribution and pricing decisions. Valeant has also been scrutinized by lawmakers for pushing up the prices of heart drugs Isuprel and Nitropress -- and Citron has said those price hikes have disguised a lack of growth. Valeant has disputed Citron's figures.
It's all taken a heavy toll on Valeant shares, which were up 83 percent for the year in August and are now down 22 percent for 2015. That's hurt top shareholders including Ruane Cunniff & Goldfarb Inc., which manages the Sequoia Fund, along with T. Rowe Price Group Inc. and Bill Ackman's Pershing Square Capital Management.
Ackman defended Valeant at the Bloomberg Markets Most Influential Summit on Oct. 6, saying drug companies put their profits into research and acquisitions, rewarding investors and producing more innovative products. Fran McGill, a spokesman for Pershing Square, declined to comment Wednesday.
The Citron report published Wednesday names several pharmacies, including R&O Pharmacy, that share a phone number with Philidor and have similar text on their websites. Valeant said Monday that it has an option to acquire Philidor.
R&O Lawsuit
The twist in Citron's allegation is that R&O Pharmacy has sued Valeant. In a lawsuit filed in federal court in California, R&O said it had gotten a letter from Valeant's general counsel on Sept. 4 indicating that it owed Valeant more than $69 million. It had never received a previous invoice from Valeant for any amount.
The lawsuit says that R&O believes that either Valeant and R&O are "victims of a massive fraud perpetuated by third parties" or that "Valeant is conspiring with other persons or entities to perpetuate a massive fraud against R&O and others."
Citron said that lawsuit is evidence that Valeant is creating invoices "to deceive the auditors and book revenue."
"Valeant/Philidor have created an entire network of phantom captive pharmacies" to create fake sales of drugs or to avoid scrutiny from auditors, Citron said.
A spokeswoman for Philidor didn't immediately respond to comment. The R&0 answering services offered up a customer service number that is the answering service for Philidor.
Inventory Comments
On a conference call Monday, Valeant said inventory held by Philidor is on Valeant's books, and the company doesn't recognize revenue until prescriptions are filled. The drugmaker's general counsel sent a letter to R&O because the pharmacy "is currently improperly holding significant amounts it receives from payers," or insurers, Valeant Chief Executive Officer Michael Pearson said on the call. Inventory held by R&O is on Valeant's books, he said.
Valeant said Monday it may spin off one line of drugs that has benefited from price increases. The company said it will focus less on acquisitions that depend on buying old treatments and raising their prices.
The company's bonds erased more than a billion dollars in market value after the Citron report was published. 
The junk-rated securities, which mostly come due within 10 years, lost $1.5 billion in value at 1 p.m. in New York, according to Trace, the bond-price reporting system of the Financial Industry Regulatory Authority. 
The price of Valeant's $3.25 billion of 6.125 percent maturing in 2025 fell 11.25 cents to 83.5 cents on the dollar, the biggest drop since they were sold in March, Trace data show.
Valeant has almost $20 billion of bonds outstanding, according to data compiled by Bloomberg.
Before it's here, it's on the Bloomberg Terminal.
LEARN MORE