Valeant Drop Ripples Through Drug Stocks
by and
Stocks seen as benefiting from acquisition strategies fall

An index of 25 large-cap U.S. pharmaceuticals slumps 1.7%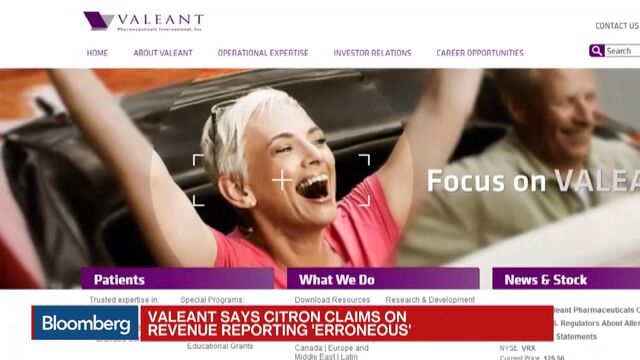 A $20 billion selloff in Valeant Pharmaceuticals International Inc. spurred a battering in drug stocks seen as sharing its taste for acquisitions, sending Mallinckrodt Plc and Endo International Plc tumbling.
Ripples spread quickly, dragging down an index of the 25 largest and most liquid U.S. pharmaceutical companies, which tumbled 1.7 percent as 21 of its members fell. Valeant's plunge of as much as 40 percent brought the stock to its lowest level in more than two years after a stock-commentary site run by a short seller questioned its sales practices.
"If Valeant is doing something funky, people are going to unfairly punish everybody. The market is going to assume everyone is guilty until proven innocent," said Frank Ingarra, head trader at Greenwich, Connecticut-based NorthCoast Asset Management LLC, which has $3 billion under management. "It makes sense to me that everyone is going down in sympathy. You have a bunch of skittish investors in there that are quick to cut losses."
Valeant in a statement called the short seller's report that it used a strategy of recording fake sales to phony customers "erroneous" and defended its relationship with specialty pharmacies that distribute its drugs. The stock pared its decline to 22 percent, to $114.39, as of 2:29 p.m. in New York.
As many as 50 mergers and acquisitions helped push Valeant's market value as high as $90 billion in August from less than $20 billion at the end of 2011, data compiled by Bloomberg show. Now it's lost as much as $25 billion in two days, buffeted by the short-seller report after saying last week it had been subpoenaed by federal prosecutors.
The stock is a darling of professional investors, ranking in the top 10 holdings for 32 hedge funds as of June 30. Bill Ackman's investment firm Pershing Square Capital Management held a 5.7 percent stake of 19.4 million shares at the end of the second quarter. With Valeant at about $110 a share, Pershing stands to lose about $650 million today.
The biggest loser in the S&P 500 Health-Care Index, Dublin-based Endo International slid 21 percent before paring the drop to 9.7 percent. St. Louis-based Mallinckrodt declined 13 percent before trimming its retreat to 5.8 percent.
Endo, which ranks in the top 10 holdings for 16 hedge funds, also has a history of being an active acquirer. In May it agreed to buy Par Pharmaceutical Holdings Inc. for about $8 billion. Mallinckrodt purchased Questcor Pharmaceuticals Inc. last year for about $5.6 billion and said this month it plans to acquire immunotherapy company Therakos Inc. in a transaction valued at $1.33 billion.
Today's losses come about a month after a tweet from Democratic presidential hopeful Hillary Clinton about possible "price gouging" in the market for prescription pills fueled a selloff in U.S. biotech stocks that brought the iShares Nasdaq Biotechnology ETF to a nearly one-year low on Sept. 29.
Energy stocks surpassed health-care yesterday to attract the most in-flows this year, according to data compiled by Bloomberg.
"It was summer's hottest area with so much money flowing in. Now that spigot is shut off," said Andrew Burkly, head of institutional portfolio strategy at Oppenheimer & Co. in New York. "We were looking for biotech and health-care as a form of leadership to stabilize the market and this news certainly doesn't help. That was the component we were missing on the rally and this sets that back."
Pharmaceutical companies have completed $98.8 billion in acquisitions year-to-date.
"The specialty pharmacy roll-ups in general are where you've seen aggressive M&A in last few years, taking brands and raising prices," John Fraunces, portfolio manager of Turner Medical Sciences Fund, said by phone. "It's important that some of the others come out and say, look this is our business model and the bulk of our volume growth is not hinged on specialty pharma relationships that lack transparency."
Allergan Plc erased all of its 9.8 percent loss for the day after the company said it doesn't use specialty pharmacies that are the focus of the short seller's report. A Mallinckrodt spokesman said the company does not have an ownership stake in any specialty pharmacies, while Endo said in a statement the specialty pharmacies it uses are fully independent of the company.
"Valeant is very specific, you've got fraud allegations here so there's no direct overlap with other companies on the news," said Alpha Theory Advisors president Benjamin Dunn, who acts as adviser to hedge funds with about $6 billion in assets. "The perception that those managers that are in Valeant might be in pain and selling could lead to a level of game play here with people wanting to move before those guys do."
Before it's here, it's on the Bloomberg Terminal.
LEARN MORE