U.S. Health Insurers Slip as Clinton Calls for Merger Review
by and
Cigna falls 3.9%, Anthem drops 3.7% in industrywide decline

Clinton: `These mergers should be scrutinized very closely'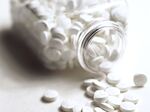 Cigna Corp. and Anthem Inc., which agreed to a $48 billion deal in July, slipped in Wednesday trading along with other health insurers as Democratic presidential candidate Hillary Clinton said mergers in the industry deserve more scrutiny.
Cigna fell 3.9 percent to $136.61 at the New York close, and Anthem dropped 3.7 percent to $142.79. Aetna Inc. and Humana Inc., which have struck their own deal to combine, declined as well.
"These mergers should be scrutinized very closely with an eye to preventing the undue concentration that they appear to create," Clinton said Wednesday in a statement. "I am very skeptical of the claim that consumers will benefit from them."
Cigna's deal for Anthem and Aetna's proposed acquisition of Humana would reduce the number of major publicly traded health insurers in the U.S. to three from five. Clinton said the mergers should be carefully examined by regulators, and that the companies should commit to lowering premiums and out-of-pocket costs. Clinton is turning her attention to health insurers after her criticism of drug companies' pricing practices sank shares of some of those firms.
Skeptical Analysts
Some analysts were skeptical about Clinton's comments. Sterne Agee analyst Brian Wright noted that the antitrust review of the mergers will probably finish well before Clinton could enter the White House, according to his note to investors.
"We see Secretary Clinton as having no bearing on the approval or rejection of the proposed mergers and see today's volatility as an opportunity for investors," Wright said. He has buy ratings on Aetna, Cigna and Anthem and a neutral rating on Humana.
Anthem and Cigna said in an e-mail that their top priority is "ensuring consumers have expanded access to affordable health coverage." The insurers said they're "engaged in a constructive and transparent dialog with federal and state antitrust authorities about the benefits of this merger."
Aetna also responded to Clinton's remarks. 
"The Aetna and Humana combination is about creating positive change in the health-care marketplace," the company said in an e-mailed statement. "Aetna is focused on evolving the health care industry to a new model -- one in which insurers, doctors and hospitals work together to lower costs and coordinate care to give people as many healthy days as possible."
Before it's here, it's on the Bloomberg Terminal.
LEARN MORE