U.K.'s First Reactor Since 1995: How the EDF-China Deal Happened
by and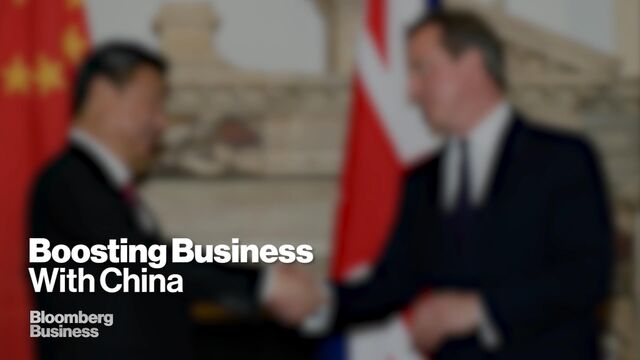 Electricite de France SA's agreement with China General Nuclear Power Corp. for a joint investment in building the U.K.'s first new nuclear power plant in three decades can be traced back ten years, when the then prime minster Tony Blair suggested the U.K. would consider building new reactors.
The 18-billion-pound ($27.8 billion) project at Hinkley Point in southwest England is still subject to a final investment decision by EDF, which has been preparing the site for years and has already lined up 1.3 billion pounds of contracts. EDF in 2006 said it envisaged building its first new plant in the U.K. by Christmas 2017. The start date for construction later slipped to 2017, with planned completion in 2023, assuming a final investment decision was taken in July 2014. Now the company plans to commission Hinkley in 2025, 30 years after Britain's most recent nuclear reactor, at Sizewell B, began generating in 1995.
Following is a timeline of the project's milestones:
Nov. 29, 2005: U.K. Prime Minister Tony Blair says building a new generation of nuclear plants will be considered in a review of the country's energy system.
May 2006: Blair backs new nuclear, saying it would be "a serious dereliction of our duty to the future of our country" to ignore the technology.
Nov. 27, 2006: Vincent de Rivaz, chief executive officer of EDF's U.K. subsidiary, says he hopes new nuclear power plants will be operating in the U.K. by Christmas 2017.
July 18, 2011: Hinkley Point C nominated by U.K. government as a suitable site for a new nuclear station.
July 28, 2011: Local council approves preparatory works at site.
Dec. 13, 2012: Technology for Areva SA's EPR pressurized water reactor approved for use in U.K. after 4-year review.
March 19, 2013: Energy Secretary Ed Davey approves construction of plant after 3 years of consultation.
Oct. 21, 2013: EDF and U.K. government agree on strike price of about twice the current wholesale price that will be paid to EDF for power from Hinkley. EDF signs letter of intent with equity partner Areva.
Dec 18, 2013: European Commission begins state aid investigation to assess whether the plant needs state intervention to proceed.
Oct. 8, 2014: Commission concludes state aid probe, saying the U.K.'s planned assistance to the project meets EU guidelines.
April 2, 2015: EDF cuts 400 jobs on Hinkley C project.
July 6, 2015: Austria files legal challenge against the decision by the European Commission to allow U.K. state subsidies for Hinkley.
July 30, 2015: Areva's investment in Hinkley in doubt as the company agrees to sell majority stake in its reactor business to EDF.
July 31, 2015: EDF announces preferred bidders for project with combined value of more than 1.3 billion pounds.
Sept. 21, 2015: U.K. Chancellor George Osborne provides a government guarantee for 2 billion pounds of investment in the project.
Oct. 21, 2015: Commercial accord between EDF and China General Nuclear Power Corp.
Still to Come:
Final Investment Decision by EDF
Before it's here, it's on the Bloomberg Terminal.
LEARN MORE