U.K. Has Smallest Budget Deficit Since 2007 as Income Climbs
by and
Figures still suggest Osborne may struggle to meet targets

Government will publish its spending review on Nov. 25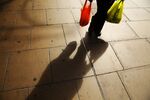 Britain posted its smallest budget deficit for a September in eight years, though the improvement may still not be enough for Chancellor of the Exchequer George Osborne to reach his borrowing targets.
Net borrowing excluding public-sector banks was 9.4 billion pounds ($14.5 billion) in September, down 1.6 billion pounds from a year earlier, the Office for National Statistics said in London on Wednesday. Economists in a Bloomberg News survey forecast 10.1 billion pounds. The tax takes from businesses and individuals rose to records for a September.
The report demonstrated the benefits to the public purse from 10 quarters of economic growth, with government receipts jumping 3.9 percent from a year earlier to 47.5 billion pounds. Yet economists said that Osborne, who has committed to achieving a surplus by 2020, is likely to miss budget goals for the current fiscal year through March 2016.
"The fiscal consolidation is still not going to plan, and we think the chancellor will have to announce more austerity in time if he is to achieve his goal of a budget surplus by 2019/20," said Samuel Tombs at Pantheon Macroeconomics.
'Big Task'
There was also a harsh assessment from the British Chambers of Commerce, which said the Treasury still faces a "big task" to improve the public finances. The EY Item Club said the full-year picture "remains soft" and the Office for Budget Responsibility will probably have to revise up its deficit projection for this year.
This latest report will stoke Osborne's insistence on sticking to his plan to squeeze the public finances. The government will publish a joint Autumn Statement and Spending Review on Nov. 25.
"Hard choices are paying off," but government spending "is still unsustainably high," Osborne said in a statement. "That's why we have to continue the hard work of identifying savings and making reforms necessary to build a resilient economy."
The ONS data showed total central-government spending rose 1 percent in September from a year earlier. In the fiscal year to date, it's risen just 0.9 percent. The deficit came in at 46.3 billion pounds in that period, down 7.5 billion pounds from a year earlier and the lowest for the comparable period in seven years.
Income tax in September rose 4.1 percent to 11.4 billion pounds. Corporation tax receipts surged 12.7 percent to 2.5 billion pounds. Both are the highest for a September since records began in 1997.
Before it's here, it's on the Bloomberg Terminal.
LEARN MORE