technology
Toyota Taps Back to the Future Nostalgia to Pitch Clean-Energy Car
By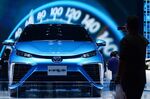 In the Back to the Future film trilogy launched in 1985, Marty McFly traveled through time in a DeLorean powered by a lightning bolt. Now, Toyota Motor Corp. is hoping some of the popular franchise's marketing magic will rub off on its futuristic hydrogen-powered sedan launched last year in Japan.
Toyota has reunited Michael J. Fox, who played McFly in the series, and Christopher Lloyd, who played the eccentric scientist Emmett "Doc" Brown, as pitchmen for its fuel-cell sedan, the Mirai, which means "future" in Japanese.
The automaker's nearly five-minute-long promotional video borrows a scene from the 1989 sequel where a panicked Doc swerved his DeLorean -- used as a flying time-travel device -- into the McFly family driveway and implored Marty to join him in the future. Doc needed some fuel. He found it in a garbage can.
Roughly 26 years later, Lloyd and Fox are back, with plenty of nods to their film characters, in the automaker's video, riding with a Toyota aero-mechanical engineer who demonstrates how fuel for the $57,500 Mirai can be generated by garbage dumps. The carmaker plans to deliver more than 30,000 fuel-cell vehicles annually within five years to help it reach a goal of cutting emissions by 90 percent. Achieving that milestone will hinge on the rollout of hydrogen refueling stations, which is behind schedule in both Japan and California, the lone U.S. state where the Mirai will initially be sold.
 "It's really hard to imagine that it actually exists -- that a vehicle can operate without impacting the environment," Lloyd, 76, said in a phone interview. "It's not like it's some sort of experimental machine. It's a really comfortable car, intelligently laid out, and I would think it will be very popular."
Lloyd said Toyota approached him and Fox three or four months ago to take part in the automaker's "Fueled by Everything" series, which has showcased renewable techniques for generating hydrogen. Previous episodes have showed methods for making hydrogen out of biogas from cow manure, and by electrolyzing water or lemonade.
The Mirai's environmental credentials have been questioned by critics and Tesla Motors Inc. founder Elon Musk, who has panned the technology. While it's true there are renewable sources of hydrogen including wind and solar power, the cheapest and most frequent method used today is to steam it out of natural gas or coal, which actually produces environmentally harmful carbon dioxide.
The Mirai itself uses an electric motor and generates no emissions, except for harmless water vapor. Toyota will begin U.S. sales on Oct. 21, 2015, the same day Doc and Marty travel to the future in the second installment of the Back to the Future trilogy. 

While Lloyd says he and Fox only spent a few minutes in the Mirai, the car easily beats the DeLorean that the two made famous in their movies.
"It was a great choice for the film -- it had such a futuristic look about it," he said. "But the engineering lacked a lot. On the set, they had about six or seven, maybe eight DeLoreans, and the stunt drivers said that it just didn't hold up well when it was maxed out. They would be going back and forth, taking parts from the other DeLoreans to replace the ones that were in the DeLorean we were using. It wasn't engineered that well."
Lloyd, who lives in Santa Barbara, California, said he hasn't owned a Toyota before, but that may change after taking Mirai for a spin. In explaining why he might buy a Mirai, he sounded much like the legions of Hollywood celebrities such as Leonardo DiCaprio and Cameron Diaz, who helped popularize Prius, Toyota's pioneering hybrid.
"It feels so good driving something that was not polluting, you know? I worry about our climate and the effects it's having," he said. "It feels good to be driving something that is helping the situation rather than adding to the problem."
Before it's here, it's on the Bloomberg Terminal.
LEARN MORE