Tom Hayes Blamed Libor Losses on Other Banks Fixing the Rate
by
`Lots of people had fixes,' Hayes said in 2007 e-mail

Hayes made Libor requests to brokers on `IMM fix day'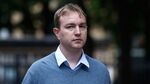 Tom Hayes, the former UBS Group AG trader convicted of manipulating Libor, blamed his losses on other banks fixing the benchmark rate after a bad trading day in 2007, according to online chats shown at a London trial Wednesday.
The electronic chats were shown to jurors on the 12th day of the trial of half a dozen brokers accused of helping Hayes rig the London interbank offered rate, the benchmark used to value more than $350 trillion of loans and securities.

Hayes called Darrell Read, his broker at ICAP Plc, on Sept. 14, 2007, and asked him to skew rates ahead of the quarterly IMM date, an important day in financial markets when billions of dollars of futures and options positions settle.
"It's IMM fix day," Read's boss, Danny Wilkinson, warned when Read passed on Hayes's request internally. "So assume we will see Libors skewed by various banks come 11 a.m."
Read and Wilkinson are among the six brokers from ICAP, RP Martin Holdings Ltd. and Tullett Prebon Plc on trial for a conspiracy to defraud in London. Hayes, who worked at Citigroup Inc. after UBS, was the first person convicted of charges related to the rate. He's appealing the verdict and a 14-year prison sentence.
The week after the IMM date, Hayes complained to Read that Libor had gone against him.
"I guess lots of people had fixes," he said in the Sept. 18, 2007, chat. "Cost me a fortune."
Prosecutors say brokers at ICAP helped Hayes rig Libor between 2006 and 2010 by sending out a daily Libor prediction e-mail that was billed as independent, but was actually tailored to Hayes's needs.
"Now that IMM roll is out the way people will be more inclined to follow" the e-mail again, Read reassured Hayes.
The trial is scheduled to last 12 weeks and the defendants' lawyers will respond to the allegations at a later point in the case.
Before it's here, it's on the Bloomberg Terminal.
LEARN MORE