The Long Bull Run for U.S. Oil Refiners Shows Signs of Slowing
by
Refiners among biggest energy losers as U.S. oil output falls

Less output means higher domestic prices, crimping margins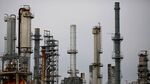 The end of the U.S. shale boom is about to claim another victim: oil refiners.
Refiners are showing signs of slowing down after an unprecedented rise in U.S. crude production sent them on a five-year bull run. Citigroup Inc. downgraded five refining stocks Wednesday, including a subsidiary of billionaire Carl Icahn's CVR Energy Inc. Profit margins from turning oil into gasoline and diesel fell last week to the lowest level since 2010, according to data compiled by Bloomberg.
Why? As output rose, a ban on most exports left U.S. refiners awash in crude, allowing them to buy it for less than competitors in Europe and Asia. Now that producers have put the brakes on drilling, that advantage is eroding. The change may hurt the bottom line at Exxon Mobil Corp. and Royal Dutch Shell Plc, which report earnings later this month. Refining profits have been one of the lone bright spots for major oil companies during the price crash.

Since 2012, when the shale oil boom began picking up steam, U.S. crude has traded at an average of $10 a barrel below global varieties. That was pure profit for investors like Icahn, Warren Buffett and others who rode the refining wave to an almost 300 percent return in the past five years and used their advantage to boost exports.
Now producers are pulling back. U.S. output is expected to fall by about 7.5 percent to 8.66 million barrels a day through August 2016. Meanwhile, the discount between U.S. and global crude narrowed to $2.33 this week, less than half of the spread two months ago. Since July, refiners have underperformed the Standard & Poor's 500 Index and a broad subset of 40 major energy companies, according to data compiled by Bloomberg.
Exxon's refining profits in the first half of 2015 were more than double that of the same period in 2014. In previous oil crashes, big companies like Exxon relied on the so-called "downstream" refining business to prop them up when production didn't pay well.
That boost may end after refining margins dropped 42 percent from July to September. Last week, they fell below $10 a barrel for the first time since 2010. Refiners report earnings at the end of the month.
Citigroup analysts including Faisel Khan downgraded companies including CVR Refining, HollyFrontier Corp. and Western Refining Inc., saying the difference between domestic and global prices will "remain narrow in the near term." Still, Khan continues to recommend companies such as Phillips 66 and Marathon Petroleum Corp. that have diversified their revenue streams into pipelines, gas processing or chemicals.
Before it's here, it's on the Bloomberg Terminal.
LEARN MORE