Syria's Assad Met Putin in Moscow for Talks Tuesday, Russia Says
by , , and
Leaders discuss offensive against terrorism, Kremlin says

Lavrov and Kerry plan to hold talks in Vienna on Friday
Bashar al-Assad held talks in Moscow with President Vladimir Putin in the Syrian president's first official foreign visit since the civil war in his country erupted in 2011, underscoring the growing Russian role in the four-year conflict.
Three weeks into a Russian bombing campaign in support of Assad's troops, Putin told Assad during his visit to the Kremlin on Tuesday that "there have been some major positive results in this fight" against the "international terrorists" battling the government, according to an official transcript.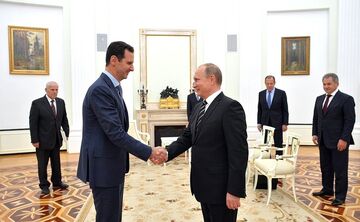 Ending the crisis requires "a political process with the participation of all political forces, ethnic and religious groups," Putin said in comments shown on Russian state television on Wednesday. Assad, thanking Russia for its assistance, said the fight against "terrorism" is the "obstacle against any true political steps that could be taken on the ground."
The intervention in Syria, Russia's largest military drive in decades outside the former Soviet Union, is posing a direct challenge to U.S. power in the Middle East. The Kremlin is seeking to bolster a key ally in the region, whose removal Washington and its allies see as critical to ending the civil war and defeating Islamic State militants who control large parts of the country.
The U.S. expressed its disapproval of "the red-carpet welcome for Assad," which White House spokesman Eric Schultz said today was "at odds with the stated goal of the Russians for a political transition in Syria." Schultz said the U.S. would "urge Russia to use its influence with the Syrian regime to press for a political transition, because we know right now what they're doing is counter productive."
Assad's visit to Moscow wasn't surprising, given Russia's relationship with Syria, said State Department spokesman John Kirby. He said it won't change the focus of meetings U.S. Secretary of State John Kerry will hold in Vienna Friday with Russian Foreign Minister Sergei Lavrov and their counterparts from Saudi Arabia and Turkey. That gathering, Kirby said, will be about "getting a political transition in Syria." He added that "not everybody agrees on what that should look like."
'Bargaining Position'
Sami Nader, head of the Beirut-based Levant Institute for Strategic Affairs, said Assad's talks in Moscow pointed to future Russian strategy ahead of any peace negotiations.
It's "Russia's way of saying he is in our pocket, he is our asset and we will decide whether to keep him," Nader said. "This is for sure a preparation for a deal and one more attempt by the Russians to embolden their bargaining position."
Russia's campaign of airstrikes, which began Sept. 30, seeks to help Assad retake as much as possible of the territory his forces have lost to opponents, which include U.S.-backed rebels, Russian officials told Bloomberg News. Moscow's deployment of several dozen planes, as well as ships in the Black and Caspian Seas, could last a year or more, one official said.
Vienna Talks
Lavrov and Kerry talked by phone on Wednesday about Syria and plans for the meeting in Vienna on Friday, the Foreign Ministry in Moscow said in a website statement. Lavrov also proposed a meeting of the Quartet of international powers on the Middle East over the difficult state of Israeli-Palestinian relations, it said.
The U.S., the European Union and Turkey say that Assad must step down as part of any resolution of the conflict. They say Russia is targeting Assad's opponents and not the Islamic State militants who pose the greatest threat to the region. Putin accused some states last week of having "oatmeal in their heads" for failing to understand that Russia's military campaign aims to defeat terrorism.
Russia has also attempted to take control of diplomacy surrounding the war, with Putin meeting, among others , Prince Mohammed Bin Salman, who's the Saudi defense minister and a key backer of mainstream rebels fighting Assad. Gulf and European diplomats and the U.S. have signaled they may be willing to accept Assad staying in power during a transition process as long as he goes eventually.
'Two Tracks'
The Kremlin's policy in Syria is to work "on two tracks, military and political," Viktor Ozerov, chairman of the Defense and Security Committee in the Federation Council, the upper house of parliament, said by phone on Wednesday. The operation will be successful "when Syrian forces are at the borders of the state and the state gains sovereignty," while Russia can help create conditions for dialog about a political transition, he said.
Putin hinted at the next stage in Russia's involvement in his meeting with Assad. Russia is ready to "make a contribution not only in connection with military actions in the fight against terrorism but also in the political process," he said.
On the ground, the military operation is expanding, with Syrian and Iranian forces using Russian air support to advance against rebel groups with the goal of recapturing strategic territory lost around the capital Damascus and the cities of Homs and Hama, as well as retaking Aleppo, the main commercial hub and second-biggest population center. Iran "has increased the number of its advisers in Syria," Deputy Foreign Minister Hossein Amir Abdollahian said, according to the state-run Fars news service Wednesday.
Major Offensive
Over the weekend, Syrian government forces began a major offensive around Aleppo, the state news agency SANA reported. European officials have said they worry that a regime victory there could trigger a big new wave of refugees.
Achieving those battlefield objectives will be difficult, said Rami Abdurrahman, head of the U.K.-based Syrian Observatory for Human Rights, which monitors the conflict through a network of activists.
"They need tens of thousands of pro-government fighters to regain control of these regions. There is no longer a support base for Assad" in many of the areas they are seeking to recapture, he said by phone from Egypt.
The war, which began with an uprising against Assad's rule in 2011, has killed more than 250,000 people and displaced millions of others, filling refugee camps in neighboring states and fueling Europe's migration crisis.
Before it's here, it's on the Bloomberg Terminal.
LEARN MORE