Sydney Housing Boom Over as Price Growth Slows, Domain Says
by and
Prices grew 3.2% last quarter versus 7.4% in previous 3 months

House values plunge as much as 73% in some mining towns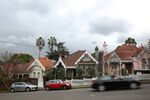 Sydney's housing boom is over, according to online real estate listing firm Domain.
House prices grew just 3.2 percent in the three months ending Sept. 30, less than half the pace of the previous quarter and the slowest quarterly rate since March 2014, Domain said in a report published Thursday.
"The extraordinary house price growth Sydney has recorded over the last three years is now clearly receding," the firm's senior economist Andrew Wilson said in the report, titled "Boom is Over." Housing markets across the nation are likely to experience moderate to modest growth over the remainder of 2015 and 2016  as the impact of previous interest rate cuts wanes and income growth remains subdued.
The report echoes warnings from economists and analysts that Sydney's surging housing market is cooling. Researcher CoreLogic Inc., which says Sydney home values climbed 44 percent in the three years to September, reported Thursday that auction clearance rates in the city fell to the lowest since March 2013 for the week ending Oct. 18.

Economists from Macquarie Group Ltd. and Bank of America Merrill Lynch are predicting a fall in prices over the next two years because of increasing supply and lower-than-expected population growth. The central bank said last week that Australia's over-heated housing market could be starting to slow, while rapid home construction in some areas is creating an oversupply.
Regulatory changes aimed at shielding lenders from a housing downturn is prompting banks to raise mortgage rates, adding to expectations of a market slowdown. Commonwealth Bank of Australia, the largest mortgage lender in the country, said Thursday it will increase its benchmark variable rate by 15 basis points following Westpac Banking Corp.'s announcement last week that it would raise its rate by 20 basis points.
Mortgage Rates
SQM Research Pty. said Monday that Sydney homes were overvalued by 40 percent and it expects price growth to slow to between 4 percent and 9 percent in 2016.
While mortgage rates are at a five-decade low, Westpac Banking Corp., the second-largest mortgage lender, said last week it will raise rates by 20 basis points.
House price growth also moderated last quarter in Melbourne, the nation's second-largest city, increasing 2.8 percent compared with a 6 percent gain in the June quarter, according to Domain.
After calling the housing market unbalanced, the Australian Prudential Regulation Authority in December urged lenders to limit investor home-loan growth to 10 percent a year. In July, the regulator said the largest banks would need to increase the capital they need to hold against potential losses on mortgages from July 2016.
The government has also sought to crack down on illegal property purchases by overseas buyers, amid concern foreign demand is pricing locals out of the market. A 12 percent decline in the Australian dollar against the U.S. currency this year has effectively given foreign buyers a discount on Australian property.
Mining Towns
A separate report Wednesday showed that homes in some Australian mining towns have lost almost three quarters of their value after the country's resource boom peaked and commodity prices plunged.
House prices in parts of Queensland state, home to much of Australia's coal output, recorded the steepest declines as mine closures wiped out jobs, CBRE Group Inc. said. Home values fell 73 percent in Dysart and 71 percent in Moranbah in just three years, the property services and investment firm said.
"As investment spending continues to slow, demand for property has contracted significantly," CBRE Senior Research Manager Sam Reilly said in the report. "Residential markets in Australia's mining towns are unlikely to enter a new growth cycle over at least the medium term."
In Western Australia, home prices in Karratha have tumbled 44 percent since 2012, and lost 31 percent in the past year alone, according to CBRE.
Before it's here, it's on the Bloomberg Terminal.
LEARN MORE