Stimulus or Not, ECB Meeting Likely to Restrain Euro: Analysis
By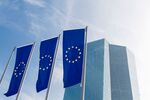 Euro faces limited upside risks versus the dollar even if the European Central Bank holds off from further easing this week as positioning, investor sentiment and technicals add to pressure from policymakers' rhetoric on the common currency, Bloomberg strategist Vassilis Karamanis writes.
In recent months, ECB officials including Vice-President Vitor Constancio and Governing Council members Benoit Coeure and Ewald Nowotny have verbally stepped in to push the euro lower after a daily close above 1.14 versus the greenback.

POSITIONING AND SENTIMENT
Investors' unease with betting on euro upside is illustrated in recent market positioning data. CFTC CME Euro FX Leveraged Funds show net shorts are still above the lows seen on previous occasions when EUR/USD was near 1.14, even though they decreased slightly last week. The option market paints a similar picture as risk reversals, a gauge of positions and expectations in the market, fail to track EUR higher. Data compiled by The Depository Trust & Clearing Corporation shows expiries next month are largely concentrated within 1.07/1.15 strikes. Positioning has been steadily declining since August and is 'next to zero' at the moment, according to traders in London and southern Europe who asked not to be named as they are not authorized to speak to the public.
MONETARY POLICY DIVERGENCE
If ECB refrains from any immediate action and only prepares the ground for further stimulus at Dec. 3 meeting, euro downside may also be limited as that outcome seems already priced in.
Euro has been mostly trading within an 1.1100-1.1450 range against the dollar since mid-August. A further widening of monetary policy divergence between euro zone and the U.S. is needed to break the lower bound of its recent range versus the dollar. This may include drastic measures by the ECB such as a deposit rate cut or increased monthly purchases, or tightening from the Federal Reserve.
EUR/USD has been trading comfortably above 1.11 as the market has been pushing out its pricing for FOMC tightening further down the curve.
Unless probability of a fully-priced 25 basis points FOMC rate hike comes much sooner than currently seen by Fed funds futures for mid-2016, euro may find decent support on dollar rallies.
The main risk for euro bears this week stems from the possibility that ECB President Mario Draghi adopts a more hawkish than anticipated tone by failing to prepare the ground for further stimulus this year. This risks a steep rally in EUR/USD toward 1.1714 August 24 high that goes against the recent rhetoric by ECB officials, a move that may trigger another bout of verbal intervention from policymakers.
TECHNICALS
Weekly chart shows EUR/USD is well-capped as we approach the 50 percent retreat of the drop between December and March. Elliot waves on daily chart are also supportive of limited euro upside risks as ABC correction of downtrend since May 2014 was completed on August 24 and the pair is now in the process of forming the dominant Wave 3 of a new downtrend that started on May 8. Cluster of support levels below current spot rate shows the increasing importance of the dollar side of equation for any meaningful downside potential in the common currency.
NOTE: Vassilis Karamanis is a strategist who writes for Bloomberg. The observations he makes are his own.