Russian Airline Transaero Triples as Buyout Lifts Survival Odds
by and
Aeroflot sinks most on Micex on bets competition to persist

Deal unlikely to prevent bankruptcy, UralSib analyst says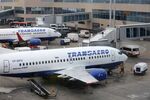 Transaero Airlines shares surged after S7 Airlines co-owner Vladislav Filyov agreed to buy Russia's second-largest carrier, improving its odds of survival after a bailout by state-run Aeroflot PJSC collapsed.
The stock jumped 187 percent to 19.50 rubles by 12:48 p.m. in Moscow. It had tumbled 94 percent through yesterday since Sept. 1, when a government commission backed the takeover of Transaero by Aeroflot, a deal that eventually fell apart.
"Investors are celebrating the news that Transaero can be bought and that it's still viewed as a liquid asset," Oleg Popov, a money manager at the Moscow-based April Capital, said by phone. "But the situation could change in a matter of minutes."

Filyov, whose Siberia Airlines is Russia's third largest carrier, signed an agreement Tuesday to buy a controlling stake in Transaero, which owes creditors 260 billion rubles ($4.1 billion), according to VTB Capital estimates. The ruble's 35 percent slump in the past 12 months and declining travel by recession-bitten consumers left Transaero struggling to meet 42 billion rubles of foreign-currency leases on jets. The company was slated to end its operations by Dec. 15.
No Logic
Russia will annul Transaero's certification from Oct. 26 as the airline is in an unsatisfactory financial condition, raising security concerns, Alexander Neradko, head of Russia's aviation watchdog, told reporters in Moscow on Wednesday. He added that the watchdog has no information on S7 talks with Transaero.
Without a license, Transaero has little value, according to Elena Sakhnova, an analyst at VTB Capital in Moscow, who said its hard to see the airline's appeal to Filyov.
"The possible deal where Vladislav Filyov would buy Transaero has lost all sense because after losing its certification, the company will stop its operation and lose its most valuable possession--access to international routes," Sakhnova said by phone.
Aeroflot dropped 3.1 percent, the most on the Micex. The stock is falling on expectations of persisting competition, said Popov.
"The deal is unlikely to prevent bankruptcy at heavily indebted Transaero, which is inevitable without massive debt write-offs," UralSib Capital analyst Denis Vorchik said in an e-mailed note.
Before it's here, it's on the Bloomberg Terminal.
LEARN MORE