Quick Guide to Credit Suisse Shakeup: Who's Out, Who's Moving Up
By
Sitohang, Khan, Bouee, Warner to join bank's executive board

De Boissard, Meister, Shafir, Graham leaving executive board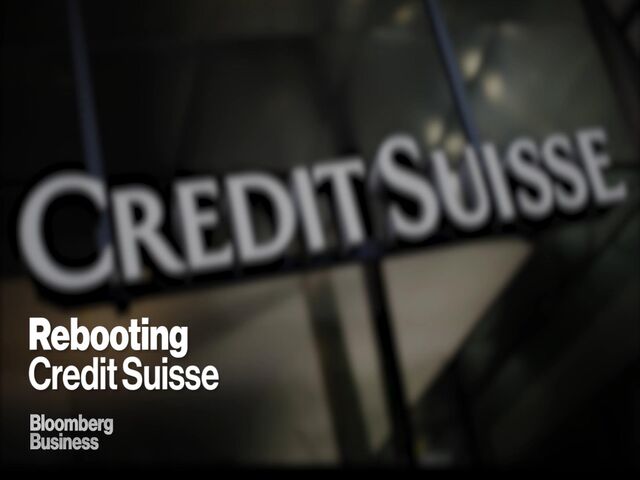 Credit Suisse Group AG's reorganization includes a management overhaul, a change in the company's structure and plans for an initial public offering of the Swiss banking unit.
WHAT IS CHANGING?
--The bank will restructure to create three regionally-focused divisions -- Switzerland, APAC and International Wealth Management -- and split the securities unit into a markets business and an investment banking operation.
--Credit Suisse plans to hold an IPO of the Swiss Universal Bank by the end of 2017 to take advantage of consolidation in the industry and boost capital.
--The bank plans to "right-size" in London and reduce the capital it allocates to the securities unit by scaling back the macro and prime services businesses. Risk-weighted assets in macro will be cut by 72 percent and leverage assets by 79 percent between the second-quarter and end-2015, while RWAs in prime brokerage will shrink by 50 percent and leverage by 25 percent in the same period.
--Credit Suisse is raising 6.05 billion francs ($6.3 billion) by selling stock and cutting costs by 3.5 billion francs, including 1,600 jobs in Switzerland.
WHO IS JOINING THE EXECUTIVE BOARD?
--Helman Sitohang, 49, will be responsible for APAC. Sitohang has been running Asia Pacific as well as the region's investment bank. He has been with Credit Suisse since 1998 and holds an engineering degree. Sitohang has helped advise on mergers and acquisitions and share sales of about $150 billion at Credit Suisse.
--Iqbal Khan will be responsible for International Wealth Management. Khan joined Credit Suisse in 2013 from Ernst & Young, where he was the managing partner of assurance financial services firms in Switzerland. He has a degree in international business law from the University of Zurich.
--Pierre-Olivier Bouee becomes chief operating officer. Bouee followed Tidjane Thiam to Credit Suisse from Prudential Plc, where he was chief risk officer. He had been Thiam's chief of staff since the CEO took over at the insurer in 2009. Like Thiam, Bouee used to work for McKinsey & Co. He holds a Master of Science in Finance and a Master of Corporate Law.
--Lara Warner becomes chief compliance and regulatory affairs officer. She was the chief operating officer and interim chief financial officer of the investment banking division, based in New York. She joined Credit Suisse as a senior equity research analyst in 2002 and later served as a member of the managing director evaluation committee. She previously worked as senior research analyst at Lehman Brothers Holdings Inc.
--Thomas Gottstein has been head of premium clients Switzerland and global external asset managers since January 2014. He joined Credit Suisse First Boston's Swiss Investment Banking team in 1999, later serving as co-head of the European Equity Capital Markets team and head of Investment Banking Coverage Switzerland. Gottstein holds a degree in Business Administration and Economics as well as a doctoral degree in Finance and Accounting from the University of Zurich.
WHO IS LEAVING THE EXECUTIVE BOARD?
--Gael de Boissard, 47, has been at Credit Suisse since 2001 and a member of the executive board since 2013, when he became a co-head of the investment bank, in charge of fixed income. He previously worked at JPMorgan Chase & Co and spent his entire career as an investment banker. He has degrees in mathematics and civil engineering.
--Hans-Ulrich Meister, 55, joined Credit Suisse's executive board in 2008 as the head of private and business banking Switzerland. He led the combined private banking and wealth management unit, which includes asset management, jointly with Rob Shafir since 2012. Meister joined Credit Suisse from local competitor UBS.
--Rob Shafir, 57, headed the private banking and wealth management unit together with Hans-Ulrich Meister. He's been on the executive board since 2007, when he joined from Lehman Brothers Holdings Inc. Shafir, who is also regional CEO for the Americas region, holds an MBA from Columbia University.
--Pamela Thomas Graham, 52, joined Credit Suisse in 2010 as a member of the executive board in charge of personnel, branding and communications. Since 2013 she has been in charge of new markets for private banking and wealth management and kept the responsibility for marketing and talent. Previous to Credit Suisse she was at Angelo, Gordon & Co. Like Thiam, she is a former partner at consultancy McKinsey and & Co., where she worked from 1989 until 1999. She has degrees in business and law from Harvard.
EXECUTIVE BOARD MEMBERS:
--Tidjane Thiam, Thomas Gottstein, Helman Sitohang, Iqbal Khan, Timothy O'Hara, James L. Amine, David Mathers, Romeo Cerutti, Joachim Oechslin, Pierre-Olivier Bouee, Lara Warner and Peter Goerke.