Putin's Ally Enters Moscow's $3.7 Billion Wireless Market
by
Tele2 starts network in capital as Russian owners stepped in

New player threatens profitability of MTS, MegaFon, VimpelCom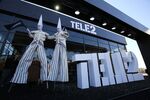 Russia's three dominant wireless providers are facing a new rival in the lucrative Moscow market: a discount carrier backed by the government.
T2 RTK Holding, whose owners include the state and a billionaire ally of President Vladimir Putin, will start services in the capital Thursday, potentially threatening the profitability of Mobile TeleSystems PJSC, MegaFon PJSC and VimpelCom Ltd in the country's biggest market.
The company, also known as Tele2 Russia, will be the fourth provider in the capital region. The region of Moscow has about 25 million inhabitants and represents 230 billion rubles ($3.7 billion) in annual wireless revenue, a quarter of the entire domestic market, according to researcher Advanced Communications & Media.
Sweden's Tele2 AB struggled for years to win licenses for faster data networks in Moscow. State-run lender VTB Bank acquired the unit for $2.4 billion in 2013 and then sold a stake to Putin's ally Yury Kovalchuk and partners. Last year, the owners merged Tele2 Russia with the wireless assets of state-run Rostelecom PJSC, which already had the necessary licenses, creating T2 RTK Holding.
"The entrance of the new market player that's known as a discounter will prompt Russia's 'Big Three' carriers to react and may reduce profitability in the wireless market," said Konstantin Belov, analyst at UralSib Capital. "Still, T2 RTK will need time to catch up in network quality and pay back the investments it made."
Mikhail Fridman's VimpelCom declined 6.7 percent to $3.77 in New York at 1:27 p.m. while Vladimir Evtushenkov's MTS slid 1.6 percent to $7.58. MegaFon, controlled by billionaire Alisher Usmanov, fell 0.8 percent at the close of trade in London.
T2 RTK received a state-subsidized 16 billion-ruble loan in February to develop a network in Moscow. The company may also benefit from regulation that allows users to take their existing mobile numbers to a new carrier, according to UralSib. Sales at MegaFon and VimpelCom Russia have been falling this year as the country entered the worst recession in at least six years.
"Enough with fat mobile tariffs," Tele2 says in ads posted around Moscow depicting three fat capitalists, an allusion to wireless incumbents MTS, MegaFon and VimpelCom. The company's website offers tips on how best to dispose of rivals' SIM cards. Options include feeding them to goats and sending them skywards by rocket.
Package Price
Russia had 242 million active SIM cards -- the small chips that slide into a device to allow it to connect to a network -- at the end of the first half, which reflects a mobile penetration rate of 170 percent, according to AC&M. Wireless services in Russia are among the cheapest in the world with average monthly revenue per users of about $4, according to the Communications Ministry.
Tele2 Russia will offer a package price of as low as 99 rubles a month, or half what competitors charge for similar offers, the company said at a presentation in the Russian capital today. Premium packages will also be less expensive than rival offers, the company said.
MegaFon successfully competes with Tele2 in other Russian regions, the company's press office said in response to questions. The carrier has recently updated tariffs to make calls between its users free and raised the volume of mobile Internet offered in packages, it said.
Entering the Moscow market is a challenging task for a newcomer, VimpelCom Russia said in an e-mailed response to questions. Existing players spent years investing to provide solid network coverage and communications quality, the company said. MTS said it has spent 20 years building its wireless network in the Moscow region and that it keeps investing.
Before it's here, it's on the Bloomberg Terminal.
LEARN MORE