business
Rousseff Impeachment Bid Filed by Opponents as Cunha Weighs Move
By
Lower house speaker must accept plea for voting to start

Impeachment process could take months and result in her ouster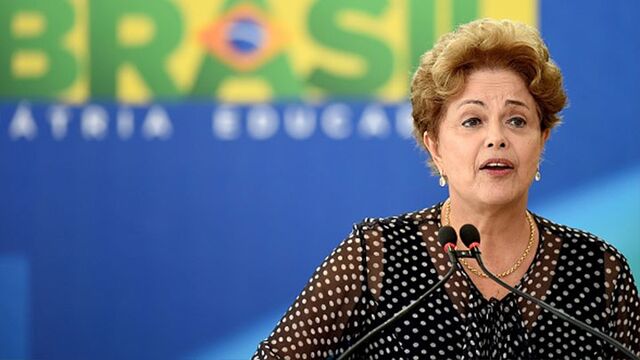 Three high-profile Brazilian lawyers, including a former member of the ruling party, filed a request Wednesday to open impeachment proceedings against President Dilma Rousseff on allegations she doctored fiscal accounts.
Lower house President Eduardo Cunha, a vocal critic of Rousseff, received the request and now must decide whether to accept the plea, which may take days and even weeks. If he accepts the petition, it will set in motion a protracted legal process that could result in the president's removal from office. Cunha, who himself faces corruption allegations, pledged to study the petition with total neutrality.

This particular petition has garnered attention in the local media and Congress given its broad support from government rivals and the clout of its authors. It will test the resolve of Cunha, and the opposition should he open the impeachment process, to oust the least popular president in Brazil's modern history. Rousseff denies wrongdoing and likens efforts to remove her from office to a coup.
Former Workers' Party politician Helio Bicudo , one of the lawyers who drafted the petition to Congress, argues she manipulated fiscal accounts in 2014 and at the start of her second term.
Cunha has rejected at least 20 requests in recent weeks, saying they lacked legal merit.
He faces charges of having accepted kickbacks from contracts with state oil company Petrobras, accusations he denies.
Before it's here, it's on the Bloomberg Terminal.
LEARN MORE