Portugal Warned by EU Over Failure to Submit Draft 2016 Budget
By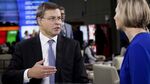 European Commission Vice President Valdis Dombrovskis threatened Portugal with unspecified "action" should the country further delay presenting a draft 2016 budget.
Still without a new government following Oct. 4 national elections, Portugal missed an Oct. 15 deadline for European Union nations to present their draft spending plans to the commission for scrutiny. The country should do so on the basis of a "no-policy-change assumption," Dombrovskis told reporters on Wednesday in Brussels.
Should Portugal fail to submit a draft budget in the coming days, "it's not excluded in any case that we could take some action," he said without elaborating. "We are now in close contact with Portuguese authorities."
Portugal is testing new EU budget-oversight powers crafted in response to the debt crisis that, over the past six years, forced Portuguese rulers and those of four other euro-area countries to seek emergency international aid. Portugal is the only euro-area member to have missed the mid-October deadline for sharing draft annual spending plans with the commission, the EU's executive arm.
Stable Administration
In the Oct. 4 Portuguese ballot, Prime Minister Pedro Passos Coelho's ruling coalition won the most seats in parliament while falling short of the majority it had. Socialist opposition leader Antonio Costa said on Tuesday that he can form a stable administration backed by a majority in parliament, offering an alternative to another term for Coelho.
Dombrovskis said Portugal has no excuse for failing to share a draft budget for next year because the practice in the euro area for countries that hold elections around the time annual fiscal plans are drawn up is for those to be submitted under a scenario in which current domestic policies would be unchanged.
"We are now sending a letter to the Portuguese authorities highlighting the need to respect the existing regulations and to submit a draft budgetary plan," he said. "We understand the political difficulties and the fact that this is a post-election time, but it must be said that there is established practice."