Pearson's Stock Slump Dwarfs FT, Economist Sale Proceeds
by
Shares lose more than 20% over two days after profit warning

CEO says situation `frustrating,' blames cyclical factors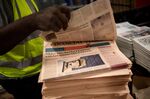 Pearson Plc just lost a chunk of its market value that's greater than the combined proceeds from the sale of the Financial Times and the Economist.
The shares fell as much as 8.7 percent Thursday, adding to Wednesday's 16 percent slump -- the biggest since at least 1988 -- after the education company said full-year profit will be at the low end of its previous range of forecasts. The two-day drop trimmed the stock's value by 2.3 billion pounds ($3.6 billion). Pearson has agreed in recent months to dispose of the Financial Times newspaper and its stake in the Economist magazine for about $2 billion.
Chief Executive Officer John Fallon blamed a decline in U.S. college enrollments and sales of fewer textbooks in countries including South Africa, which came to light only at the end of last month. The summer months are the busiest time of the year for Pearson, known as the "back to school" period in the U.S.
On Thursday, the company said that University of Florida decided not to move forward with a partnership meant to provide online education. The cancellation is disappointing because the pact could have generated revenue of as much as $168 million over 11 years, said Ian Whittaker, a media analyst at Liberum in London.
While London-based Pearson gets almost all its profit from education, the company has struggled the past two years with job cuts and a reorganization to boost investment in digital services and emerging markets.
"What's happening now is somewhat frustrating because we've gained share in all our major markets, but they are weaker than we thought they'd be at the start of the year," Fallon said in a phone interview. "It's frustrating that we're having to guide to the lower edge of our earnings per share range."
Firings, Reorganization
As it shifts online, Pearson has gone through what Fallon has called a "bruising" restructuring. Since early 2013, the company has eliminated more than 4,000 positions and halved its warehousing capacity for textbooks and other physical media.
"What should also be worrying for Pearson shareholders is that when they had the profit warnings for 2012 and 2013 numbers," they were issued in January trading updates, Whittaker said. "The fact the company is turning so negative so early suggests the problems are greater than would have been anticipated."
The shares fell 8.4 percent to 915 pence at 1:47 p.m. in London, valuing the company at 7.5 billion pounds.
Adjusted earnings per share will be around the bottom end of a range of 70 pence to 75 pence, the company said. Pearson had already lowered its previous forecast of 75 pence to 80 pence by 5 pence to reflect its disposals this year of businesses including the FT and The Economist Group as well as movements in exchange rates.
Pearson has also shed stakes in Madame Tussaud's wax museums, the Lazard investment bank, and France's Chateau Latour vineyard. Today it's the world's largest education company, with about 93 percent of revenue coming from sales of books, tests and other learning materials.
"The factors against us now are cyclical and they've been more persistent than we thought," Fallon said. "We will start to grow again."
Before it's here, it's on the Bloomberg Terminal.
LEARN MORE