Merkel Calls for Full Transparency From VW in Emissions Scandal
by and
Top labor leader says VW should cut models to lower spending

Lower Saxony files complaint after VW documents disappear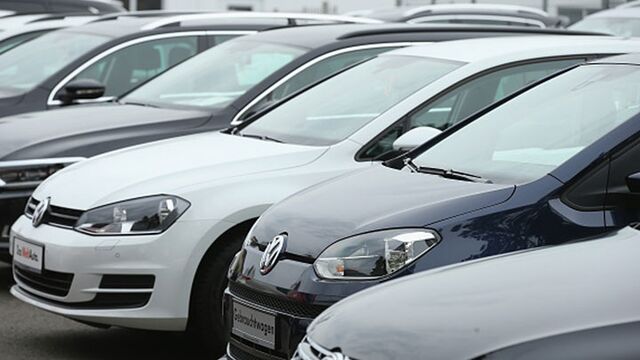 German Chancellor Angela Merkel called on Volkswagen AG to move quickly to clarify what happened in the emissions cheating scandal as the automaker's top labor leader said VW should consider reducing the number of models on offer as costs from the crisis balloon.
"There has to be swift transparency so that credibility can be restored," Merkel said Wednesday at a labor union event in Frankfurt, adding that Germany's reputation as a good place to do business was also on the line.
Bernd Osterloh, works council chief and a VW supervisory board member, told German newswire dpa that the board will provide more details as soon as a special committee completes a review of the matter. Osterloh also said that management should look again at a 2014 plan from labor leaders to focus on more profitable models and reduce the 12-brand behemoth's complexity to lower spending.
New Chief Executive Officer Matthias Mueller said this month that, while VW doesn't need a revolution, he's delaying or canceling non-essential projects to cut costs following the disclosure that VW cheated on U.S. emissions tests. The automaker last week announced a recall of 8.5 million diesel vehicles in Europe, and Mueller says the fallout from the scandal will cost more than the 6.5 billion euros ($7.4 billion) already set aside.
Volkswagen said Wednesday that it told European dealers to stop selling diesel vehicles with the engine type at the heart of the scandal, adding that the number of affected cars is "very limited." Osterloh said in the interview that most models currently at dealers use newer engines that don't contain the cheating software, and that the automaker has seen no evidence thus far that the crisis is impacting October sales.
Missing Files
As the fallout widens, the number of workers on leave in connection with the probe has increased to five. Frank Tuch, the automaker's quality control officer, was the latest to be suspended, according to a person familiar with the matter. A VW spokesman declined to comment on the personnel matters.
Lower Saxony Premier Stephan Weil is meeting Wednesday with workers at VW's headquarters in Wolfsburg. VW is based in Lower Saxony and the state owns 20 percent of the automaker's voting rights.
The state government filed a complaint with prosecutors after documents related to VW's diesel cheating disappeared from Lower Saxony's chancellery. Authorities are investigating to determine whether the files were stolen or simply lost, said Kathrin Soefker, a spokeswoman for the prosecutor's office in Hanover. The missing documents didn't contain sensitive information, said Michael Juerdens, a Lower Saxony spokesman.
Before it's here, it's on the Bloomberg Terminal.
LEARN MORE