London's Black Cabs Go Green With Made-in-China Electric Power
Bloomberg News
TX5 to be rolled out in 2017, featuring Wi-Fi and room for six

China's Geely investing 300 million pounds in London taxi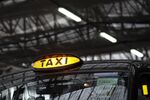 London's future taxis will still look like the classic black cabs of yore, but under the hood will be electric-vehicle technology from China.
The TX5 model, unveiled Wednesday in the U.K. capital, takes visual cues from the classic FX4 introduced in 1958, while featuring a lightweight aluminum body, composite panels and a range-extended battery system. The cab, which will be introduced in late 2017, also has a glass roof, Wi-Fi and can accommodate six passengers -- one more than at present.
The taxi, shown off during a state visit to Britain by Chinese President Xi Jinping, is made by London Taxi Co., now a unit of China's Zhejiang Geely Holding Group Co. The company's billionaire founder, Li Shufu, is a key player in China's push to expand internationally. In addition to buying London Taxi's former parent Manganese Bronze Holdings Plc in 2013, Geely acquired Sweden's Volvo Cars five years ago.
The TX5 design was conceived at Geely's Barcelona offices by David Ancona and Peter Horbury, a former chief designer at Volvo who said he developed the model around the "headlights, grille and strong roof lines" of older cabs.
Geely will also fund a 50 million pound ($77 million) research center near Coventry, England, alongside a 250 million-pound factory with a capacity of 36,000 vehicles a year. The complex, which begins production in 2016, will have about 1,000 employees and is Britain's first new auto plant in a decade, Geely said.
"We will have invested many years of development and more than 300 million pounds in bringing the TX5 to market," Li Shufu said. The new cab demonstrates "our competitive edge when it comes to delivering pioneering design and technology."
— With assistance by Christopher Jasper, and Tian Ying
Before it's here, it's on the Bloomberg Terminal.
LEARN MORE