Jim Chanos Nails the Link Between Debt and Energy
Shale companies have relied on eager capital markets for growth.
by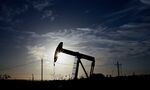 "Energy Investments After The Fall: Opportunity Or Slippery Slope?"
So begins the latest presentation from renowned short-seller Jim Chanos. What follows is a powerful outline of the spirally debt dynamics that now dominate the future of the oil industry. At the heart of Chanos's thesis is the contention that years of low interest rates, cheap financing, overeager investors and ambitious managers have helped propel the boom in U.S. shale and imbue it with near unstoppable momentum; U.S. oil production is expected to grow 6 percent in 2015, despite a stunning 59 percent drop in the U.S. rig count over the past year.

The extent of the capital market's support for energy over the past half-decade is laid bare in energy companies' financial figures. According to Chanos, cash flow from operations at some of the most prominent exploration and production companies has not covered capital expenditure since 2010, meaning that they have consistently outspent income. That trend is present even at the larger "big oil" companies such as Exxon, Chevron, and Royal Dutch Shell, Chanos claims, with cash flow following distributions to shareholders firmly in the red.

The question now hovering over the energy sector is whether the flow of capital investment that has propped up shale companies for so long will continue. Signs indicate it might not. Spreads on the bonds issued by energy companies are currently 480 basis points wider than average yields on the debt of junk-rated companies, meaning investors are (finally) demanding extra returns to compensate for the added risk of E&P.
Many oil companies have large revolving credit facilities from which they could draw financing to help replace any cut off by suddenly skittish investors, an argument that has been picked up with some aplomb by energy bulls and managers. However, Chanos says that even the most reliable E&P companies will be reluctant to tap such revolvers, given the negative publicity atttending such moves. And while banks have largely continued to renew and extend credit lines to energy companies (perhaps opting to keep such companies afloat, rather than cut them off and suffer consequences on their own balance sheets) those renewals have been accompanied by a tightening of terms. It's a reversal of an historic trend that has held the balance of power in favor of energy companies; the sheer amount of investors and bankers willing to lend to exploratory shale has enabled the bulk of debt and loans sold and issued in recent years to come with far fewer protections for lenders, known as "covenants."

With support from capital markets increasingly in doubt, the future of the energy sector looks dicey, to say the least. Balance sheets appear weak, forcing investors to reacquaint themselves with a concept that has arguably been forgotten in an era of exceedingly low interest rates and abundant financing: liquidity analysis. 
As Chanos concludes: "Return to growth cannot happen without cheap equity and debt, neither of which exist today."
Before it's here, it's on the Bloomberg Terminal.
LEARN MORE