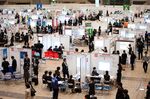 The tightest labor market in 23 years and soaring profits at some large companies sounds like a recipe for higher wages and more spending.
Not in Japan, where much of the action in the job market is in low paying part-time positions and insecure contract work.
On the surface, Japan's job-to-applicant ratio of 1.23 in August looks good for wage gains. With more jobs than candidates, companies should be offering more money to fill vacancies and workers ought to be doing more shopping.
The problem lies beneath the headline number. The ratio drops to 0.76 for regular full-time jobs. 
Four in every ten workers in Japan are now in non-regular jobs, according to the statistics bureau.
Breaking into regular full-time employment is tough and many workers tend to stick to contract positions, according to Masaki Kuwahara, an economist at Nomura Securities Co.
The impact on spending of any pay gains in non-regular work is far less than would be the case for full-time regular employees, according to Takao Komine, a professor of economics at Hosei University.
"Companies are not confident about the future," Komine said. "They are making money now, but they worry they may not be able to keep regular workers in the future if they hire. They are making ends meet with non-regulars."

Before it's here, it's on the Bloomberg Terminal.
LEARN MORE