GM Profit Shows Barra Running Smarter Automaker Than in Past
by
Adjusted profit sets record as CEO touts `different' company

Carmaker paid $1.5 billion in quarter to settle ignition cases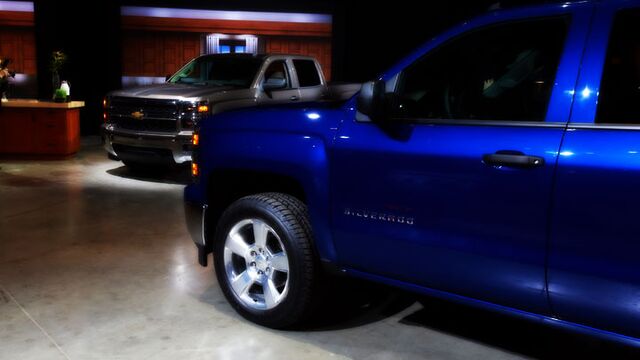 General Motors Co. is beginning to surprise investors, not just by exceeding Wall Street estimates but by how they beat those projections.
The automaker's third-quarter profit did so not just because of strong U.S. truck sales, said Barclays analyst Brian Johnson. GM produced a record $3.1 billion in adjusted earnings before interest and taxes both with cost cuts worldwide and by shifting sales to more expensive models in China, keeping profits stable even as the most-coveted car market has slowed.
In the past two quarters, the company has shown that it can run the business better than the GM of old and deliver on promises. Investors may be starting to take notice: The stock climbed 5.8 percent Wednesday, its biggest daily gain since December 2012.
The company reported that adjusted earnings per share were $1.50, compared with the $1.19 average of 16 analyst estimates. GM credited strong margins in North America and only a slight decline in China, where auto sales have struggled.
GM's results highlighted two major points. Chief Financial Officer Chuck Stevens said earlier in the year that the company could sustain profits in China even as the market slowed. He also said GM could get better than 10 percent margins in North America next year, and he delivered this year.
"Three months ago no one believed GM would get to that target," Johnson said in an interview. "Chuck is vindicated on that."
'Different Company'
GM's profit rebounded from a year earlier as U.S. buyers continued their love affair with trucks and the company pulled back on selling less expensive models to rental fleets. The automaker's North American earnings before interest and taxes were a record $3.3 billion.
"These results reflect on our work to capitalize on our strengths in the U.S. and China," Chief Executive Officer Mary Barra said in a statement. "GM is a vastly different company today than just five years ago."
The largest U.S. automaker overcame a tough car market in China by boosting sales of more-expensive sport utility vehicles. The company's equity income from the China joint venture slipped to $467 million. Auto sales have struggled in the market, with GM's deliveries falling 4.2 percent in the quarter. GM is keeping profits afloat with crossovers like the Chevrolet Trax and Buick Envision representing more than 17 percent of sales by GM and its joint ventures in September, up from 6 percent a year earlier.
Stevens had a told-you-so moment after announcing earnings, saying, "China has not fallen off a cliff as everyone expected."
On a conference call with analysts, Stevens said the company will continue to improve. In addition to reaching its goal of a 10 percent margin on North American earnings before interest and taxes a year early, GM will also report $10 billion in EBIT globally this year, he said.
Cost Cutting
In China, GM has managed to keep profits relatively stable by selling more expensive vehicles. While sales of less expensive Chevrolet cars and Wuling small commercial trucks are down, Buick sold 238,000 cars and SUVs in the quarter, up from 221,000 a year earlier. GM is also doing a lot of cost cutting in the market, Stevens said.
In the quarter, GM took a charge of $1.5 billion related to its ignition-switch recall, with $900 million going to a settlement with the U.S. Department of Justice and the rest to settle lawsuits related to death and injury cases.
There are still huge challenges for GM. The company makes its money in the U.S. and China, and the rest of its markets are pretty weak. Total revenue fell to $38.8 billion from $39.3 billion in 2014's third quarter.
In Europe and South America, the company continues to lose money. The European business cut its losses almost in half from a year earlier to $231 million. In South America, GM's loss widened to $217 million from $32 million.
Stevens said he sees no end in sight to the problems in South America, where the automaker has lost $575 million this year. Political and economic turmoil has hammered auto sales for all manufacturers. GM's revenue fell to $1.7 billion in the quarter from $3.2 billion a year earlier.
"I can't see a light at the end of the tunnel from a macro perspective," Stevens told reporters at GM's Detroit headquarters. "We have huge upside once macro conditions change, but I don't see an end in the medium term."
Before it's here, it's on the Bloomberg Terminal.
LEARN MORE