First the Nudity, Now the Star, Spain's Rivera Seduces Investors
by
Ciudadanos overtakes Podemos as third party in polls

Pro-market party likely partner whether PP or Socialists win
As Spain's rising political star, Albert Rivera has charmed many Spaniards with his easy-going manner and his critique of the political establishment. His pro-market agenda is also reassuring bond investors.
Having overtaken the anti-austerity group Podemos in polls for the first time this month, Rivera's Ciudadanos party is likely to be kingmaker after an election in December. Whether he opts to support Prime Minister Mariano Rajoy's People's Party or the main opposition Socialists, investors are just happy it's Rivera who holds the key.
"Seeing Ciudadanos in a coalition, whether it's with the PP or the Socialists, would represent a continuation of policy in Spain," said Mark Dowding, who helps manage about $60 billion as a partner at BlueBay Asset Management LLP and has been buying Spanish debt. "We were more concerned about Podemos at the start of the year, as it made the result more unpredictable, but Ciudadanos has a mainstream agenda."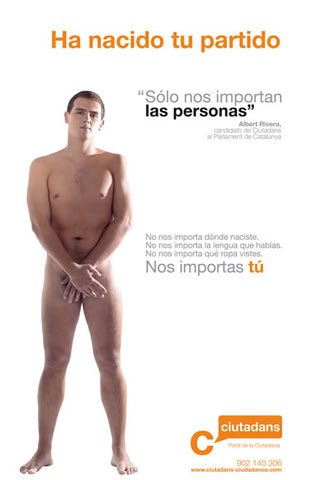 Ciudadanos emerged in 2006 with a campaign poster that showed a naked Rivera looking at the camera beneath the slogan: "Your party has been born." For the first eight years of its existence the party was a marginal force in Catalonia, before the crisis opened up a space in the center of Spain's political map for a more modern alternative to the 60-year-old prime minister's party.
With Italy's economy barely growing and Rivera offering reassurance that Spain's recovery won't be derailed by an abrupt shift in policy, other investors share Dowding's view. The extra yield they get for holding Spain's 10-year bonds instead of similarly dated Italian debt fell to 14 basis points this week after reaching 28 basis points last month, the most in more than two years.

Front and Center
Ciudadanos went national last December with Rivera announcing he would be running for prime minister six months later. Since then, the 35-year-old lawyer has become inescapable for Spaniards, debating policy on news shows, talking family life on morning TV and discussing his fashion choices in style magazines.
Four national surveys released in October showed Ciudadanos in third place and one placed the group in a statistical tie with the traditional parties. The most recent, Telecinco's poll of 1,800 people published Tuesday put Ciudadanos at 18 percent with the PP at 27 percent and the Socialists at 24 percent.
With neither Rajoy's PP nor the Socialists within reach of an outright majority, that would make Rivera's party the go-to option to support the next government. Podemos, the ally of Greek Prime Minister Alexis Tsipras that led in one January poll, dropped to fourth place with 16 percent.
"Having Rivera play this role would be seen as a positive by the market," said Geoffrey Minne, an economist at ING Bank in Brussels. "His party is coming with a pro-business program, a willingness to improve transparency in government and tackle the issue of labor market duality."
Staying Sensible
Campaigning on a platform of "sensible change," Rivera combines pro-market measures with socially liberal views. His party wants to cut taxes, simplify the sales tax and reduce duplication at regional government level. But he's also advocated legalizing prostitution, investing in innovation and modernizing the education system.
By blurring the lines between conservative and progressive ideas, Rivera is attracting support from traditional supporters of both the PP and the Socialists and can seal alliances with both groups. According to a Metroscopia opinion poll published Oct. 11, Rivera has the highest approval rating among Spanish politicians.
With Spain set to move beyond the two-party system that has controlled parliament for the past three decades, Rivera's ability to draw support from across Spain's polarized political map could be his biggest asset.
"Rivera can combine policy ideas, that's his advantage," said Antonio Barroso, a political analyst at Teneo Intelligence in London. "Coupled with his emphasis on institutional regeneration, Rivera can attract moderate voters from both sides of the political spectrum, especially young ones."
Before it's here, it's on the Bloomberg Terminal.
LEARN MORE