Fiat CEO Sees More Need for Consolidation After VW Scandal
Tommaso Ebhardt
Marchionne says GM merger offers the `greatest benefits'

Auto industry to collectively pay price of diesel cheating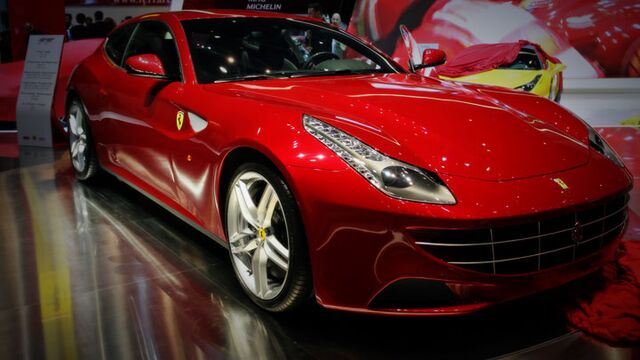 Fiat Chrysler Automobiles NV Chief Executive Officer Sergio Marchionne said Volkswagen AG's diesel scandal intensifies the need for auto-industry mergers to combat soaring development costs.
Fiat Chrysler will play a role in consolidation and still sees General Motors Co. as its best-suited partner, Marchionne said in an interview following the initial public offering of the Italian-American company's Ferrari unit. The spinoff of the supercar maker will help Fiat Chrysler lower debt and make it more viable partner, even if GM and other automakers have rejected Marchionne's advances.
The auto industry will "collectively pay the price" of the VW diesel scandal as the
cost of complying with emissions regulations will rise "exponentially," said Marchionne, surrounded by Ferrari cars outside the New York Stock Exchange.
"The analysis about the excess use of capital is still valid today" and needs to be addressed, he said. "Whether it is GM or some other solution going forward, it doesn't really matter."
Regulators in the U.S. and around the world are set to tighten scrutiny after VW admitted to rigging diesel engines for years to circumvent pollution tests. That could raise the costs needed to develop cleaner technology even further. As it is, the strain of meeting guidelines was evidently already enough to prompt Volkswagen to cheat.
GM Pursuit
Marchionne, 63, has been crusading for combinations for a year, highlighted by his April presentation called "Confessions of a Capital Junkie." He argues that automakers waste money by developing multiple versions of the same technology, such as emission and safety controls, and combining would help by spreading those costs across more vehicles. So far his reasoning has been ignored, with GM saying it's strong enough to stand alone.
"To underwrite an unprecedented level of risk from integration and a cost perspective is not in the best interest of our shareholders," Chuck Stevens, the chief financial officer of Detroit-based GM, said Wednesday on Bloomberg Television.
Marchionne has since focused his attention on GM, which is more than twice the size of Fiat Chrysler, the carmaker he created in 2014 from the merger of Italy's Fiat and U.S. counterpart Chrysler. The two companies share multibrand strategies. Also, GM lacks a dominant shareholder to defend it like Ford Motor Co. or Volkswagen. GM's biggest investor is a trust of the United Auto Workers labor union, which holds about 8.9 percent.
Any further push by Marchionne for a merger is unlikely before the beginning of next year, after Fiat Chrysler completes the spinoff of Ferrari. By that time, when the Italian-American automaker has its cash from the move, the industry will have had more time to grapple with the broader impact of the VW scandal.
Ferrari advanced 5.8 percent in its first day of trading Wednesday in New York after climbing as much as 17 percent. Fiat-Chrysler was trading 0.8 percent higher at 13.58 euros ($15.40) as of 9:13 a.m. in Milan on Thursday.
Before it's here, it's on the Bloomberg Terminal.
LEARN MORE